Foxy Till Dawn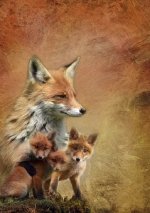 Wed, 04 Aug 2021
2 likes
A poem about myself not being able to sleep,
watching Vixen with her three pups at 3am
in neighbouring garden, from my bedroom window.
The brazen youth in shadows romp,
brush tips of branches scratching itch;
mischievous customs night scented
squeal, cavorting amid brilliance of
security light; illumination brighter
than full moon's rays in darkness of
summer night.
See a rustling spill of fading petals,
cub peeping from behind foxgloves
that bloom adorning wooden fence;
those inquisitive wild sparkling eyes
watching siblings in high spirits, not
sinewy but able to pounce, as russet
tails toss.
No rules in their games as I watch their
escapades. So wrapped up in antics, they
don't see me watching, as mama explores,
constantly aware pups boisterous game.
Vixen's patience now fading, she gives
a yelp, glowing light went out as mum
guides her cubs through to a foxy dawn.
Pixabay free image.