Pie Chart Man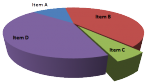 Fri, 03 Sep 2021
1 likes
Pie Charts have been with me from the very beginning. When my father held me up as a baby, I tinkled in his face and this single act generated a bubbly 17% wedge of happiness.
The gift of a tin drum, from my grandmother, resulted in a wedge of 19%. This was topped by a Millennium Falcon for Christmas 1983, which yee-hoo'd in with 22%. To put these wedges into context, my wedding day only received 9% and subsequent divorce 11.5%.
People stop me when I'm out and about, or come up to my table in the local coffee shop, and they say, "Pie Chart Man, can you tell us about your wedges?"
And I'll scratch my chin (2%) or sip my cappuccino (4%) with chocolate sprinkles (1%) and ponder.
I'll ruminate. 
I'll consider the thrill of being thrown out of the Tate gallery for pawing a painting by Turner, or pedalling along the seafront on a stolen bicycle, squeezing its black rubber horn and hearing its toot. Then there was the night I set fire to mother's wedding dress, not to mention the commotion when I wore father's wig to his funeral. I tot up the percentages in my head. It's not as straightforward as it sounds. The curse of rose-tinted glasses can play havoc with a man's conversion system.
For example, in my thirties, a pie chart may have looked like this:
Father's funeral wig: 46%
Mother's wedding dress fire: 33%
Touching a Turner in the Tate: 12%
Stealing a bicycle with a horn: 9%
Whereas, say, come my forties, it could be:
Bicycle theft: 55%
Turner desecration: 40%
Wedding dress arson: 33%
Funeral wig: 7%
Who knows what it'll be if I decide to turn fifty?
There's a rebuke that I hear, usually spat from the mouths of school kids. "Hey, Pie Chart Man," they cry out, "why don't your charts add up to 100%?"
Kids today, they're ignorant of the ways of spiritual arithmetic. Let me explain: the real sum total comes in the final reckoning – sometimes, I call it, The Pie Chart of Deliverance. I'll examine every mind-forged statistic in forensic detail, stripping out the nostalgia, the longing and the regrets, the past-midnight reminiscing vs daytime reverie, wiping off those rosy stains, and I'll ruminate like never before on the gradients of happiness I've experienced in my life, giving each its equal due. This research will be a long and arduous process, involving complex conversions and manual computations. A personalised PhD. I'll re-rate the discovery of masturbation. The sense of victory after winning a goldfish at a funfair. Watching the opening sequence of Raiders of the Lost Ark on a grainy pirate video. Buying a Kinder Surprise after school. Seeing mother's black curls when she stepped out of the shower. Dunking grandmother's false teeth in the toilet before I'd flushed. That metal lizard brooch, with its delicate filigree, pinned to the bosom of a girl serving me in an M&S in the fateful summer of 2011. Gazing at the cold moon through the bars of my cell while in a young offender's institute for crimes against humanity.     
Once, I was in a public lavatory in a park at dusk, and a man came up to me, his breath heavy with the smell of whisky and cigarettes, and he whispered, "Will you allow yourself a Rosebud moment?"
How I ruminate on this question. I really do. Shall I select one single episode of pure, unadulterated pleasure? Dare I create a wedge of 100%? Yes, that brief encounter in the public loos was like no other. And yet what about the wig? The Turner? The wedding dress? My tin drum? Millennium Falcon? Or the time I allowed my best friend's German Shepherd to lick chocolate sauce off my testicles when he was in the paved back garden helping his mother bring in the washing?
A singular wedge of sheer delight. A realm of endless bliss.
I'm not sure the universe is ready for such Deliverance.   
In the meantime, I sit here, watching the men and women come and go. 
"Would you like another cappuccino, Pie Chart Man?" the waitress asks.
"Oooo, go on then," I say.
Her smile gives me an impressive 12% wedge of happiness. I feel like it'd be higher still with a lizard brooch fastened to the bosom of her tight black t-shirt.
There is much rumination to be done.