Beneath An Autumn Moon The Poem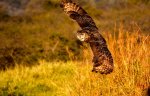 Tue, 21 Sep 2021
This is a poem about Ciciley in old age, when having no idea exactly how old she is, but aware of how close the time is coming when she joins her parents.
Autumn's cold visions keep flowing,
water appearing alive in old woman's
seclusion, island inhabited only by
birds and other land creatures.
Moorland bracken tumbles over rocks
and running streams, breathing life
Into golden sweeping hills.
Openings in crags where rabbits burrow,
some caught off guard quickly try to hide
from danger, but are flicked and gently
gathered up for food with claws by diving eagle.
Does owl in copse surface from mysterious sleep?
Billowed wings emerging...half awake as emotive
whispers call to the wild requesting their bidding.
Old Ciciley nonspeaking kneels at water's edge,
gazes at her reflection once more, traces lines
that age binds to echoes of a hard life,
but fulfilled;
cool minted eyes sparkling as she hears chirp of
greeting up in oak tree. Song thrush sings of
positive aspirations, to be sanguine in facing
despondency that lurks in shadows.
Apples fall between splayed limbs weakened over
time, they reside half forgotten on fallen carpeted
leaves in gathering rain, where fruit's consumed
by crow and blackbird staving off hunger.
Rarely did Ciciley mourn, but on this day she needed
to venerate a place of respect. Contained tears now
evolved...not such a bad thing when sad memories
concerned with death weighed heavily on her mind.
Now thrice smudging a circle, fast binding a plaiting
of grey hair, mantle wrapped around shoulders, old
mind reflecting goodness of both living and dead,
where footsteps not seen, her ancestors once trod.
Thoughts now slightly damaged recalling arriving
on this island, with heart beating fast on this fertile
land, gazing out to sea, mute of mouth; eyes of hazy
expression only her mother and father understood.
Ciciley is not dumb, just refuses to speak after passing
of her family. She lights torch to show the way where
souls are flowing, lets their chant be heard in ripples
of water stirring.
Old woman opens up stiffly to a dance with both
charisma and drama, weaved into this spell that
knots her attention; the drawing up entwined in
memories that are secure.
That morning when out walking Ciciley took
plant cuttings, all herbs blessed with thanks,
then gifted back of goats milk and seeds;
later back in her kitchen with its stone walls,
she sits by fire snipping rosemary in candlelight;
to pound with rest of ingredients for her warming
supper of broth.
She binds to the echoes of her past, thyme greets
memories of cliff tops high, in untamed seclusion
growing closer in mind. Peacefully fingers twirl,
a touch of confidence radiates in her world.
Old woman meditates holding blessed amulet,
asking that wise bird of prey will fly down her
welcoming path this day;
invocations transient will be carried on breeze;
as owl swooping in through yawning door,
comes to land on windowsill once more.
Blessings brief will drift in this night, maybe
in balls of light; as moon streams through
open window, Ciciley will dream tonight;
her mother and father will come in flight,
not by water or earth – but on wings collecting
her sleeping spirit, bringing peace again to this
vision island beneath an Autumn moon.
Pixabay free image.