Forest Terror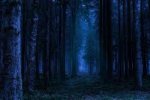 Sat, 30 Oct 2021
My attempt at a poem for Halloween
Midnight hour in eerie forest deep beyond;
cold air circles essence of spirit trees, 
those dark deformed; pendulous limbs,
leafless boughs that hide spine chilling
spindly legs,
webs cling in sinister crevices awaiting
victim or two; for the pleasure of eating.
Sunken half moon dips behind dense
plume of feathery, veiled clouds;
as darkness hides its fearful torment;
where branches grope – cracking in
distance presents feelings of urgency!
Sounds that say...'you are not alone.'
Menace beyond craves to trick imagination.
Jumping back in fear; feeling sticky –ooze
of sap cloying at naked flesh from trunk
of towering pine,
those unseen eyes cause one to flee,
thorns clinging; ripping at flesh, trying to
pull you to your knees; with every ounce
of strength run fast, don't let the mischief win;
retreat, take flight from presence till dawn's first
light peeps in.
Pixabay free image.