Her Troubles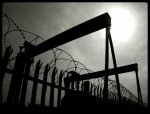 Fri, 04 Feb 2022
2 likes
Her Troubles
Tuesday's fish supper grease still lingers
On grubby stubby stiff little fingers
Cracked by cold and each one bleeds
From overuse of rosary beads
The prayers that failed to meet her needs
Shaking as she does her speed
And always stained by nicotine
Hopes to be a beauty queen
Dissolved before she turned thirteen
A twenty-two-year-old has-been
Ashamed, afraid, must not be seen
With giro day's amphetamine
And never let old Father Quinn
See her world is caving in
Keeping up her awful lie
Folk must never see her cry
Craving for the next great high
Screaming from a mouth too dry
To make a noise or even sigh
She wonders why
So many people point and stare
Does any mortal sinner care?
Hands shake in pockets with nothing there
But holes just like the soles
Of her shoes
That the cash from the dole's
Not enough to mend
The fear and desperation send
Her in flip flops frozen to her feet
She's hard and cold like the wet concrete
Where she slips and slops in driving sleet
Nonstop to the shop
At the top of the street
In icy rain
In physical and in mental pain
For twenty Benson's
With no intention
Of paying back
A tenner stole from Granda's pension
Not to mention a few wee coins
For a drop of something sweet and strong
To help the morning move along
To drown the sounds
Of crying weans that pound and pound
Inside her head and all around
Her life's in tatters, so it is
Yer man at home says so is his
He once could fill her life with craic
Until he filled his own with crack
A body tortured on a rack
Small hope of ever turning back
A page in a Falls Road almanac
---
Photograph:
Taken by me. The giant cranes, Samson and Goliath, at the Harland & Wolff shipyard in Belfast.