All the Diamonds Raining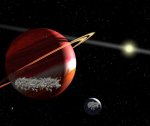 Sat, 21 May 2022
1 likes
We bet, Pascal and I,
all the diamonds raining
on Jupiter and Saturn
that something is out there.
He glories in uncertainty,
I in its opposite.
He thinks it is God,
I think you know it is not.
Others argue over the shape
and size of the universe,
which is as futile as guessing
the geometry of buildings
on a planet where gases are sentient.
Whatever 'it' may be,
I hope it never finds us,
for our first encounter
will turn 'it' to 'them'
and then to 'other'
within the time it takes
to see a difference.