Alabaster Conjugal 4.1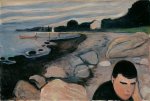 Fri, 08 Jul 2022
Paul pawed at me and whimpered. I guessed he wanted a walk and was hungry. I fed him the custard creams left by housekeeping on the tray on the table with the teas and coffees.
I went to the smallest of bathrooms. I sat on the toilet but the wall was too close to my knees and I had to turn round, sitting sideways like ladies used to do when riding horses back in ye olden days.
Paul munched his biscuits and slurped water from a porcelain bowl I had taken from the chest of drawers. I decided I would put on my trainers and running gear. The exercise would do me and Paul the power of good.
We left the guesthouse and ran to the seafront. My breathing settled into a steady rhythm. I  gazed up at my dream house with the white veranda, high on the ridge-top, imagining what it must be like to live there.  
I laughed at the sight of Paul galloping ahead, disappearing into the grassy dunes and then coming back onto the path and glancing to check I was there. I passed fishing trawlers in the harbour and saw two men carrying out maintenance on a boat. "Afternoon," I said to them, giving a wave. One of them glanced at me with a hostile expression, a hand-rolled cigarette hanging off cracked lips, and he muttered a word that sounded like 'anchor', then went back to his hammering.
I saw the boarded up seafood restaurant. A pigeon perched on a post that was missing its sign. I passed a long section of beach huts in various states of disrepair, their reds and blues and yellows blistered and faded by the weather. Paul decided to keep pace with me, his tongue hanging loose and ears flapping. I expected to see dogwalkers, cyclists, other runners, parents taking their children to the beach to fly kites on such a windy day, but the only activity was from the seagulls wheeling above the ocean, then swooping down to snaffle fish with their curved beaks.
I couldn't shake off a sense of anxiety. The sensation hung somewhere between my stomach and chest. Coming to X-On-Sea was a mistake. I should've kissed goodbye to the money I had paid upfront to Rita, packed the car, and left for another town, a place where people wouldn't find the arrival of a stranger married to a statue worthy of gossip, where Marnie and I could freely set about building a meaningful life for ourselves with Paul, our family dog.
I climbed the mossy stile and Paul stopped to sniff the wood and then went through a gap in the side. We ran up a chalky path to the top of the cliff, where the wind blew in strongly off the sea. Out of breath, I stood close to the edge and reached into my pocket for the tube of cream cheese, calling for Paul to come hither. I wanted to distract myself from thinking about Marnie, how our love had turned rotten, gone mouldy with decay.
I needed to stop myself fixating on what would have become of us if she hadn't turned into stone.
I was sure I could have wooed her back into my heart, shown her that I was better than the Aubrey Beardsley charlatan she had fallen for in that corrupt, mind-controlling, far right media behemoth where she had carved a fancy career for herself. I wanted to make her see that her foppish lover was a fake, a phoney, a laudanum-addicted compulsive liar who was using and manipulating her for his own wayward ends. I would show her that I was the better man, so much more than the husband who worked in car insurance and was rewarded for trying to find loopholes in policies to avoid paying out claims; taking orders from overconfident and cocky middle-managers younger than himself. I liked to think I might have proved her wrong about me by filling the vacant hotseat in the company. Buying a sharp suit and killer tie, a shirt with silver cufflinks, I'd strut into the Boardroom and boldly pitch to the Chair and non-executive directors about why I should be the next CEO. I'd tell them about the grand acquisitions I would make. How I could guarantee them success both for the present and the future by creating a soup-to-nuts business strategy that was synchronised for what I would describe as "the disrupted digital Asian Century". The job would be mine, on the proviso they didn't ask me to explain what I meant by "the disrupted digital Asian Century". I visualised the Board standing in unison and applauding my speech, slapping me on the back, giving firm handshakes and offering me a juicy remuneration package that included an exorbitant long-term incentive plan. The investors and fund managers would be excited by the prospect of a man with working class roots taking the helm, who had started from the bottom and made his way to the very top, who knew the industry inside and out, who lived and breathed car insurance but was savvy enough to understand the urgent need for modernisation. Marnie wouldn't be able to resist either. She would ditch her delusional, consumptive dandy by text and view me in a whole different light, begging forgiveness for her infidelity, sympathising with the reasons for mine, seeing that I was a man of substance, a veritable captain of industry. For my own amusement, I would buy the house on the ridge in cash, handing over thick wads from a suitcase with clickety locks, and Marnie and I would drink champagne from fluted glasses and make mad love on the veranda in a powdery white cloud of spilled cocaine. It would be like we were turning the clock back and beginning all over again.
Paul was sitting in front of me, his ears flapping in the wind. I was about to pull down my tight shorts and apply cream cheese to my balls when I heard a coughing sound. I swivelled round and saw the Mayor, wearing a tricorn hat, cape and, hanging round his thick neck, a set of hefty chains.
"A beautiful view," he said. "I never tire of it."
"It's majestic."
"Majestic indeed." He walked towards me and we shook hands firmly. He knelt to pat Paul on the head, looking at the tube of cream cheese in my other hand. "Is that your special treat?"
"Yes," I said, wondering if he'd watched me before. He gave me a strange look and I realised he was talking to Paul. I slipped the tube into the pocket of my shorts.
The chains of the Mayor jangled as he stood up. "We're waiting in the town hall for your presentation. Everyone is excited to meet you."
I attached the string to Paul's collar. He licked his lips. Like me, he felt cheated out of the cream cheese. "I'm excited to meet them," I said.
"They've been sitting in the hall for hours."
"I didn't mean to be late."
"Oh, it's no bother, but we should hurry."  
He started walking and I followed him onto a path made from grass trodden flat by ramblers. It ran diagonally across the cliff and back into town. "I can't tell you how excited we all are to have an artist like yourself here for the Expo."
"That's very kind of you to say. I mean, if I am an artist, it's with a small 'a'."
"You're too modest. They're eager to hear from a man with a mind and talent like yours. They want to listen to you talk about what makes a great painting – who the truly great artists are who have inspired you in your own works."
"Yes, yes, naturally," I said, noticing that, for a small man who had eaten more than his fair share of pies and been nicknamed 'Porky' at boarding school, he walked very fast.
"The hope is that you might reveal what it is you're going to show at the Expo. Giving us a preview, as it were."
"I'd prefer to wait."
"Naturally, but perhaps you could provide a taster, a hint, describing the essence of what you are trying to capture in the work?"
"The essence?"
"What are the innermost feelings you're trying to convey? How are you seeking to express those emotions through the medium of oil on canvas, if indeed that is your preferred medium? The sense of anticipation is crackling in the community. When the Expo opens the day after tomorrow, we expect a full house, queues down the street. You're something of a legend in these parts."
I was struggling to hear what he was saying as he was virtually speed walking down the hill, moving farther away. From what I could decipher, I seemed to be an integral piece in his plan for synchronising the town and gaining another term as Mayor. He wanted me to astonish the residents of X-On-Sea with my brushstrokes, shaking the foundations of art like Cezanne with his apples. I assured him that I would, that I was putting the finishing touches to a work that would cause a sensation. He kept adjusting his tricorn hat, as it was a tad too large for his head, and muttering words like, "Excellent", "Extraordinary" and "Marvellous", in an accent that was well-spoken but not achieving the poshness he wanted due to his upbringing in the area. He was a divisive figure, splitting opinions across the spectrum from 'bloody fool' to 'a breath of fresh air'. A regular orator in the town hall, he also wrote articles in the local newspaper and polemical pieces in the Parish News about "the case for a rebirth as a cultural hub". He was adamant the town could not prosper by "living on past glories". It was folly to hanker for the tourists of yesteryear, expecting them to visit in their droves to a place with a pebbly beach, a closed seafood restaurant, and a reputation for raw sewage in the water due to an effluent pipe being too short. His idea of becoming a haven for progressive artists, visionaries and seers, had steadily gained traction among the highly influential members of the Rotary and Book clubs. Through persistence and passion, the Mayor had convinced them art could be X-On-Sea's salvation, providing a sense of meaning and relevance to their existence that had been absent for decades. It might even, he suggested, kickstart the local economy, generating enough income for them to take matters into their own hands by side-stepping the corruption of the local water company and using their newfound riches to extend the effluent pipe. The Summer Art Expo was going to conclusively prove why he was right to the philistines and naysayers who still had the gall to doubt him, such as those who ran the B&Bs and guesthouses, and the owners of shops that tried to flog beach balls, inflatable loungers, sunglasses, buckets and spades and fridge magnets. The fishermen were his most militant detractors, calling him a traitor to his kind, accusing him of betraying the heritage of X-On-Sea's glorious past. The town was a hotbed of dispute, point and counterpoint. I gathered from the Mayor, although it was a struggle to hear him as he walked farther ahead of me, that it was my arrival for the Expo that was going to heal the wounds and bring everyone together, allowing them to find truth and reconciliation in the elegant brushwork of my grandiose art. I would be lying if I said I didn't like the idea of being seen as an artistic saviour. It certainly had an upside when compared to rejecting claims in car insurance. I wondered if I might actually be an artist. Perhaps he knew something I didn't. I could be a naïve visionary, adulated and revered like the famed autodidactic Henri Rousseau -- his faraway lands, rendered in a dreamy, off-kilter style, were beyond imitation. If I truly was special, the spiritual son and heir to La Douanier, then I needed to change my clothes before giving my speech in the town hall, as real artists never wore snug shorts and a running vest.
We were on the edge of town and it had fallen dark. I couldn't keep up with the Mayor. He was two or three blocks ahead of me, his voice echoing through the deserted streets. I called out to him, saying I wanted to go home first to put on some clothes, but he kept on talking, his voice growing fainter and then trailing off completely until I realised I was alone, standing at a junction, unsure of what direction to take. The rows of two-up, two-down terraced houses were all the same and there were no signposts. I couldn't use the map on my phone as I had chucked it in a river to put a stop to the abusive calls from Marnie's disapproving mother, Bridget, and the harassment from others who wanted to know the whys and wherefores of a house burning to the ground. I went to pat Paul on the head, wanting to tell him that everything was alright, there was no need to be afraid, but I couldn't see him anywhere. All I had in my hand was the loose string I used for a lead. I yelled his name, trying to sound friendly, walking to the start of each of the four roads in the junction, crossing the mini roundabout in the middle. I shouted for him repeatedly, feeling vulnerable and abandoned without his presence to keep me company, and worried about what might have become of him in this dirty and cruel seaside resort.
***