Silver Birch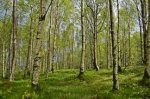 Sat, 16 Jul 2022
1 likes
Dear diary...
It was still and quiet that day when
first I held and named you Willow,
just a neonate little tree; token of
rapid intention, your swiftness to
grow echoing remnants from the past.
With forks and spades in remote
local area, reinforcements arrived,
support for creating this woodland
to one day enjoy and meander.
Curious miracles – offerings on
wings of the sky, embracing
this worthwhile consciousness,
inevitably creating energy:
soon enough letting nature
surface, both fragile and robust.
Now behind blinds in sultry heat,
precious silent visions meshing
in wonder; preparing for what
may come; that Thor the bringer
of thunder may rumble...storm
help roots to prosper; for without
rain beauty cannot flourish.
Pixabay free image.