Mallow Pink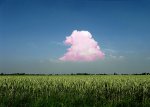 Wed, 12 Oct 2022
I had a husband once, 
he called me Edith Swanneck,
on account of my lost history,
my gentle mystery when his grandmother
then dubbed me, The Spanish Queen,
but it was far too late for love; 
this was what I felt anyway, this is what I felt
after God had crushed me
in his white, unfeeling fist.
Though I didn't flinch, of course,
when God takes you in his hands, 
you don't flinch, you remember the lessons
that fear has taught you. 
One day, God said, This is Hope ---
you like the look of it, don't you,
and I did: it was mallow-pink and cloud-shaped,
it fragmented, almost imperceptibly, miserably,
into many blush strands as it disappeared 
across the sky. I was born in a place 
I named barren, wēsten, a cold North to follow,
but we go on, don't we - it's harder not to,
at times, I think,
that to stop is a first death, so we keep moving,
we claim it's forward until we come to some other realisation,
like the moment when I understood that I was alone,
and that this is both safe and lonely. But also that nowhere
has its own path. And how God scorned at what I had become,
yet I can tell you that I become again and again,
and the heavens are always shifting,
and perhaps it is never too late for love. 
 
wēsten - waste
 
Image is from here: https://commons.m.wikimedia.org/wiki/File:Untitled_Cloud_(Pink).jpg