Berrow Sands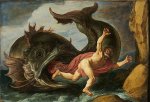 Tue, 24 Jan 2023
A great fairy fish, 
its mouth vast and gaping,
is said to have swum
off Berrow Sands, and
belched her fill of men
like thunder,
swallowed God like Jonah, 
but refused to spit him out. 
The sea here
is raincloud leaden, 
a murk of mudflats and dismay.
I imagine those
eager sailors launched 
on the underbelly of night,
unwitting food for a scaled giant,
scraps for conger eels,
serpentine ministers of darkness
who barked like dogs in the slippery gloom.
The moon loured then, as now,
the stars, its bright prisoners, 
a wake for lost fishermen,
and I think the moon might ask —
'Do you think of God?' 
'But oh,' would come a snarled reply, 'I wonder 
rather, does God think of me?'
There is a folktale about Berrow Sands in Somerset, of a huge fairy or witch fish that eats sailors and leaves the remains for the barking conger eels. Painting is from here: https://commons.m.wikimedia.org/wiki/File:Pieter_Lastman_-_Jonah_and_the_Whale_-_Google_Art_Project.jpg#mw-jump-to-license