Blackberry Moment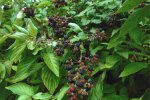 Tue, 27 Jun 2023
Dear diary...
Recalling foraging along the
woodland trail; where clearly
on backdrop of diverse leaves,
blackberries thread on limp
hanging branches; displaying
their juicy ripeness, brief mouth
watering gratification fulfilled
in swell – that bursts of fruit.
Good old-fashioned memories
of home-made jam, stirring;
bubbling in the pan. Oh! How
we laughed at the spills, filling
containers with sweet sticky
sweetness.
We weren't busy like the bees,
just had that gratification and
desire...presenting jars as
festive gifts to loved ones,
relinquished with delight
from the brier.
Photos My Own.