My Mother And I Agree On Something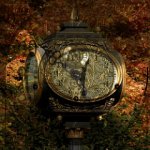 Mon, 27 Mar 2017
1 likes
My Mother And I Agree On Something
And to be old is not so big a thing,
No great achievement nor a great defeat.
It's better than what else the fates might bring:
An empty chair where I still take my seat.
I do not care that boobs have now gone south
And wax must make my chin a downy cheat.
So what if plastic pearls now grace my mouth?
And is forgetting names to be a crime?
I do not mourn hot cravings of my youth,
My lust is for the gigolo called Time,
Who takes my payment - boobs, chin, teeth, the lot –
But will not give what I crave to be mine:
The space to try, fail, take that second shot,
In blissful sureness of another day,
And after that still others to be caught,
Held to the light, allowed to slip away
Unmourned, ignored, outshone by glittered play.
Picture: http://tinyurl.com/mr5bdp8