Davie McCallum 1971-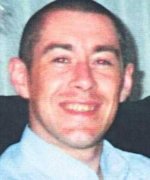 Sun, 10 Jan 2021
1 likes
When Davie McCallum, aged 31, went missing on 28th March 2003 his son David (junior) was aged five and about to start school. Now he'll be twenty-four or twenty-five, he'll be approaching
the same age when his dad started a family. His wee brother, Robbie, was aone-year-old baby, now he'll have left Clydebank High School, the same school as his dad and older brother. The mother of his sons, Margaret McDowell, waiting for Davie to come home, but older and wiser, she'll know that nothing is ever certain.
Davie McCallum featured in the fourth series of BBC's Missing programme in 2007. A handful of Missing-Person case investigated by Police Scotland, part of the over 30 000 cases a year and 210 000 in the United Kingdom that the case is left open. Snapshot and Helpline number below a picture and basic description:
 ' 5ft 6in, medium build with short dark brown hair and blue eyes. He has a smiley-face tattoo on his upper right arm'.
I remembered him as being bigger than that. His wee brother Alisdair always seemed to be trailing after him, but we never called him Alisdair, it was Ba-Ba. Their hair and square heads made them look as if they wore crash helmets, which nobody did, even when kicking off a skateboard. While Ba-Ba seemed to have a permanent scowl, Davie did have a smiley face, a smirk, extending his long jaw, as if he found the world funny. I wasn't sure if the tattoo was Indian ink, but I suspect it was.  
My partner Mary knew them better. Robert, Mary's eldest son, had used Indian ink to tattoo 'Rab' on his arm. Or at least somebody else had. Davie would be a prime suspect. He'd a few years on Rab, but Mary's youngest Alan used to trail after him too, and he was much the same age as Ba-Ba. Davie was the leader and they were sure to follow. Mary would sometimes pay Davie to 'babysit' when she went to the pub. They'd an elder sister, Susan, but we never saw her. 
Davie's mum, Seonaid, would often be in pub before Mary. One night I watched Clank  chatting Davie's mum up in Macs, both of them pissed enough to make perfect sense.  
The Council houses in Glendevon seemed to have been designed by a drunk guy that flung random numbers at it, and postman got lost unless they knew the run. Nobody much had a front garden, but everyone had a tiny back garden. When their mum, Seonaid, moved in, a Daily Record cost 3d. The houses were newly built, and you needed to be top of the housing list.  
That's where the boys camped in late summer nights, with torches and telling ghost stories that frightened no one but Alan, before sneaking home. Stealing Daily Records, 12p a copy, and rolls from the shops, lifting milk from front doorsteps to wash down breakfast. Down the steps and near the tunnel under the canal, playing chicken with trains in the dead-man-hole in the side of the wall, arched where it met the railway track.  Swimming in the murky canal on long, hot, summers.  Climbing up, and a leg falling through the asbestos roofs on top of the old factories looking on to the deep waters of the Clyde. There were a thousand ways to kill yourself.
Rab and Davie went fast and slow. They were smokers and drinker before they left High School. Alan and Ba-Ba, despite being younger were more sensible. I think Davie had a shot of joining the army with his mate Richie Smiley. If they were drunk it was because they'd cashed their Giro, and if they weren't drunk enough, maybe you could give them a loan of a pound, or a pint?  The Armed Forces was one of the few recognised ways of getting up and getting on. Richie stayed in the army, which surprised lots of people, including me.
Davie had other commitments. He'd a younger girlfriend, Margaret McDowell, and he'd a house and two kids and a relatively well-paid job in Compact. Then he didn't have a job. He told his partner he was going out for a drink. He never returned.
When Rab went missing, seven years later, we were used to it. I treated it as a holiday away from the constant hassle and bickering with him losing his phone, his house keys, his money, his common-sense. 'He'll be holed up in some drinking den,' I told his mum.
He wasn't. He was sitting on his black leather couch, in his living room. The remains of a fish supper on the table in front of him and a bottle of Buckie.
Mary phoned me and I was standing with the police and I blanked her call.
'Did you get him?' she asked, when I, finally, answered my phone.  
 'I have let you doon again,' Davie told his partner Margaret that morning when she phoned him.
'I love you and I'll be home soon,' he told her the following day. And that he was down at Loch Lomond.
His car, a black Ford Focus, was later found in the Rowardennan district. Campers on the loch-side reported to the police that they'd seen him a few days later.
Somebody reported seeing Davie in the West End of Glasgow in 2006.
Police tried matching his body up with one found in a reservoir.
'Did you get him?' Mary asked me on the phone.
I didn't answer, which was an answer.
Davie McCallum, nobody much thinks about him now, apart from those closest to him. They're still waiting, still looking, and still listening.