Present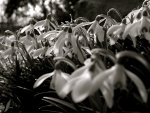 Tue, 04 Feb 2020
Today's gift wrapped in light.
Birdsong as foil ribbon
unspools, bright slipping trills
tying time together.
The woods' snowdrops have come!
Beside the path, deep in shade
they shine like promises
fulfilled. Darkness will end!
Trees snug in moss onesies
and hug of ivy shawls
unstiffen, branches  feel
Spring tingle at each tip.
Wild garlic leaf-flames lick
up from Life bursting ground
and even pavement cracks
hold possibilities
Writing this reminded me of Well-Wisher. Here are 2 of his (many and wonderful) poems about birds singing. If you haven't read his work yet, have a look, he is brilliant, original, joyful.
https://www.abctales.com/story/well-wisher/blackbird-song
https://www.abctales.com/story/well-wisher/gripping-birdsong