Be Prepared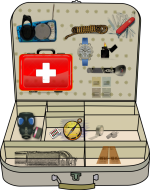 Tue, 29 Aug 2017
Pay attention, ladies and gentlemen,
this is not the naming of parts,
nor any practical use.
This is duck and cover
for the post-digital age
the dystopic result
of the childish rage
of tyrants.
Post Apocalypse Survivors Kit Mk. 1
There will not be a second version,
when the atomic cloud blacks out the sun.
In the flame-retardant, lead-lined case
each useless item has its place.
The gas mask
is not guaranteed against
every microbe borne
on the nuclear winter's wind.
This blister pack
contains placebos only:
take them, and chance to luck:
they could have been viagra
or anti-histamines.
Your compass will guide
you north, east, west or south,
and all degrees of separation
in between,
but not to safety.
This is duct tape,
sometimes known as duck tape.
It will stick to your fingers
but to nothing useful.
The whistle is useful
for attracting attention,
most of which will
prove unwanted.
In the thermos you may keep
hot drinks warm
and cold drinks cool,
but the water will poison you.
Ah, the rope, the rope.
Let us leave the rope
'til the end of hope.
Meals ready to eat,
MREs in military speak.
You have two packets
due to space limitations.
This watch has no battery
it is not self-winding:
you will have to be
awake, when it stops.
You have a torch
- and batteries.
It is your source of light
at least for a week
of winter nights.
Here is your first aid kit,
you will die of sepsis,
before you find anything
to close your cuts firmly.
The king of knives!
As issued to the Swiss Army
- neutral for centuries.
It has a tool to remove
something from the hoof
of the horse you have eaten.
This is a simple lighter
a zippo, filled with fuel.
While you have it,
you can burn things.
Perhaps wood,
perhaps furniture,
certainly what bridges are left.
Your final item is
the last great invention,
left to mankind.
A clockwork radio
to listen to The Buzzer
on the short wave,
long after the voices
fall silent.
Footnote: The Buzzer