It Seems Our Leader Is Unwell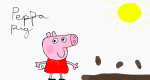 Wed, 24 Nov 2021
3 likes
It seems our leader is unwell,
though how they know I cannot tell.
He speaks of Moses and Peppa Pig,
and in spite of the hole, he continues to dig.
On losing his page, he begins to bluster
- although any sense he fails to muster -
relying instead on begging forgiveness,
at least it's a change from flippant glibness.
The man is no jester, just a bladder,
truly there is no sight sadder
than a man promoted beyond his worth,
whose every word breeds bitter mirth.
A liar, a fraud from a travelling show:
in the name of anything - Boris, just go!
[Hear this read here: https://soundcloud.com/user-224867227/boris-for-soundcloud ]