The Woman on the Other Side of the Screen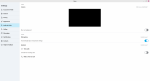 Mon, 21 Nov 2022
2 likes
There are no names here,
in the digital make-believe of Skype,
where I can see a woman,
who used to be my mother.
My sainted sister says my name,
finger pointed into the tablet screen
to where my face can be seen
but not recognised.
So I shout, the data freeze
makes my name unintelligible
- but it doesn't matter, really -
it falls on deaf ears.
I make faces, childish I know,
but it makes her laugh:
she'll make faces too,
both are better than tears.
A ramble may begin,
my sister will follow
- better than I -
into the darkness of speech.
I pick out two phrases,
"When" and "Going home"
but they are surrounded
by disjunctive words.
These rambles career
from decade to decade
colliding with names I don't know
and slang words from a past long gone.
After twenty minutes of gestures
I wave my goodbyes
and my mother blows me kisses,
as though I were a mis-remembered beau.
The mouse clicks and the screen goes dark:
how cruel it is, that my mother wanders
in the same curséd forest
where my father, too, was lost.