Katy, A Ghost Story (IP)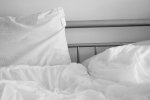 Mon, 12 Aug 2019
1 likes
'Are you coming?" He asks mildy
And I think - here I am trying to sort out the bloody potatoes and I'm getting hotter and hotter and there he is sounding so calm and reasonable; drives me mad. If he helped more this wouldn't happen in the first place. You know what? Nothing tastes good when you have to make it all yourself. Once. Just once I wish he'd do it. No scrap that – he makes such a mess when he does, I might as well just sodding do it myself. Next door, in the dining room, I can hear laughter, the chink of knives and forks, one of the girls singing.
"Yes! Just stop hassling"
I know I sound angry. The big bad mummy. It's how I feel though. It's a heat of the moment thing, know what I mean? So anyway I'm just about to hurl the whole fucking bowl at the wall, or him, or scream, or something – and one of the girls comes in – and it's steamy, and I'm cross and I have the stupid oven gloves on and I'm so distracted – and then whichever it is wraps her arms around me tight, and I look down at the top of the little blonde head, and she says "thank you mummy it was delicious", and out of the corner of my eye I see her put the plate in the sink; then she runs off again, and momentarily I think "Jesus that was quick" but I'm too busy trying to salvage the potatoes to say anything.
When I'm done, I carry them through to the dining room – we always insist on family supper there – it's such a good example to them isn't it? Everyone round the table, just as we imagined they would be, chattering, sharing news. I remember talking about it with John when they were babies – it's a big thing with me, and Lucy looks up and I'm just about to say "put the knife down"- she's waving it around all over the place, and then she says "Mummy who was the girl running up the stairs just now?"
And then everything stops. Goes into slow motion, if you know what I mean, and this prickly feeling goes through me – starts at the back of my neck and runs through me like an electric shock. I look around, and the girls have barely touched their food – makes sense, it's only been five minutes since they started, and I say "who came into the kitchen just now?" and my voice sounds weird – breaking into the sudden silence. As I knew they would, they look at me blankly, not understanding. And then John looks up – he knows by now that something's wrong. He looks puzzled. "No-one" he says. And then I don't think I can stand up anymore, and I sit down, and they're all watching me.
Then Lucy says it again, twisting one of her curls around her finger like she does; "who was that girl going upstairs mummy?" And John goes to stand up, but I say "no" quietly. And I get up. I'm shaky, but I can do it, and I go to the stairs and look up: nothing. I put my hand on the banisters, and I start to climb. I know what I'll find at the top.
I go into each bedroom, checking, although I know there'll be nothing, the way I check under the bed for Lottie when she swears there's a monster there. Lastly I go into our bedroom, and I sit down on the bed, because this is where she slept – Katy. We put all three girls in here in the moses basket at first, makes feeding easier at night, then they went into cots in their own rooms at six months. Only Katy never did of course. And as I sit on the bed I remember something else, the only other time something's happened. The weight on my shoulder, after we lost her. It was how I supported her head. She was never old enough to manage it herself – it must have been about six months after, and I was in here crying – I was already pregnant with Lucy then – and I felt that weight again. I knew what it was of course. There wasn't one single doubt in my mind, and it wasn't frightening – I wasn't scared – the opposite. And I know – I knew when she came into the kitchen just now, I knew it was one of mine – they are all so similar. Makes sense. I'm okay now – really. It was just a bit of a shock. I'm okay now. I'll go back downstairs again in a minute.