Anniversary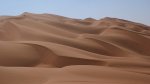 Sun, 12 Jun 2022
Audio version at https://soundcloud.com/user-62051685/anniversary-mp3
When we promise to remember
Anniversary
Time slipping away like sands,
ground glass shifting in deserts,
faded images on a sepia canvas,
memories shrouded; midnight mist.
You roam those passages (ghosts),
and if I close my sentient eyes,
I can see your face once more
looking through a backlit tunnel.
Moments of remembrance, reveries,
wondering if those nearest forget,
wondering if it takes an anniversary
to bring spirits, lost souls, back.
Tombstones covered in moss,
tendrils obscure where names,
aged, are carved in solemnity,
a promise to try harder; again.
Image free to use via WikiCommons at https://en.wikipedia.org/wiki/File:Rub_al_Khali_002.JPG