Giant Redwoods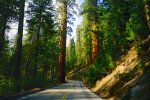 Thu, 23 Sep 2021
2 likes
Audio version at https://soundcloud.com/user-62051685/giant-redwoods-mp3
Shafts of silver light cascade at twilight,
a canopy bordering an evening sky revealed,
constellations look down on mighty bows,
Heaven-bound from a green canvass below.
From the slopes of the seared Sierra Nevada
to clusters of conifers in Wiltshire wilds,
standing, soaring, branches reach for infinity,
elemental sentries standing guard as epochs pass.
Millennia melt into our intertwining past,
history recorded in etched, concentric rings,
winds blow quietly as autumn leaves rustle,
towering trees watching, no judgement passed.
Of crumbling bark flaking and roots of ages,
where spotted owls perch and raccoons call home.
Giant Redwoods spawning seeds of sequoia
with uncounted numbers of hushed tales to tell.
Time waits for no man, nor flora or fauna,
numbers dwindle as Earth's climate changes,
a fragile fate rests in future, erudite hands,
silent observers chronicling an unwritten demise.
https://twitter.com/BeeRummie/status/1434856287687352323 link to a short video I took of Giant Redwoods in Wiltshire
https://www.savetheredwoods.org/about-us/faqs/the-threats-to-the-redwoods/
Image free to use at https://commons.wikimedia.org/wiki/File:A014,_Sequoia_National_Park,_Cal...