In Memoriam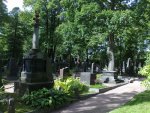 Wed, 29 Dec 2021
1 likes
Audio version at https://soundcloud.com/user-62051685/in-memoriam-mp3
In Memoriam
Rain-clouds sweeping, weeping, lament,
moss-covered, monuments of marble,
tombstones etched in words of tears,
testaments to souls once precious in life.
Yew trees (stoical), standing in silence,
winter robins singing - lift solemn spirits.
Flowers lying in grave beds decaying,
floral comfort for incorporeal spirits.
I gaze absently at placed, ceramic relics,
mementos perched on shelves of stone,
metaphorical offerings to dearly departed,
tributes to the quiet Dead from the living.
And if I close my eyes and remember,
reminiscences float like passing clouds,
reels flickering: times of joy and sadness,
buried under sand dunes of memory.
Moments lost to say tender things,
epiphanies that remain undeclared,
whispers echo like wisps of white mist,
prophesies murmured from silent lips.
Time ticks slowly, days count down,
mortal meandering, a lifetime of doubt.
I turn to leave, looking back once more
at ghosts shifting as sleep beckons again.
Image free to use at https://en.wikipedia.org/wiki/Cemetery#/media/File:Hietaniemi_Cemetery,_...