Ceiba (Silk-Cotton Tree)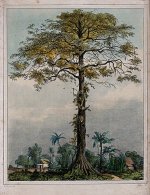 Mon, 25 Jul 2022
2 likes
'Andromache: If only I were frightened. Fear has long been normal. The heart is slow to unlearn what it learnt long ago.' Seneca's Trojan Women.
The New World barbet makes a last metrical song
of a dying sun
from the bough of a silk-cotton tree;
the first tree, Yaxche,
tall and broad,
a gamp and shade.
A chiffon of web, moonwhitened,
flossed between stems,
earns its southern emerald moth,
in bright flailwing, but frailed to fade --
though never having given much thought 
to death,
not living long enough to tire 
of life;
when this suffering arrives,
it is swift and unexpected.
Are you afraid? I am not.
A part of me, I'll admit,
is drawn to it. 
 
The night ripples,
winds itself around,
around and around
the trunk,
revels in its thorns.
This is a tree for darkness:
weaned on gloom, 
ghostbloom - as food only 
for the dead and flickershadow bats;
thieves who'd steal the breath,
hot, from your lips.
Here lurks Ixtab,
a cradle for her old bones.
I am not afraid. Are you? 
A part of me, I'll admit, 
speaks this language.
But by the sapbeat from our barbet's first call
of morning-hope, the dazed moth's struggle
beneath the secretive spider's hungry smile,
perhaps the last giant battle
is where all our hearts labour
in their unlearning. 
Image is from here: https://commons.m.wikimedia.org/wiki/File:Kapok_or_silk_cotton_tree_(Ceiba_pentandra)_growing_by_a_vil_Wellcome_V0043228.jpg