The Dead Want Their Moon Back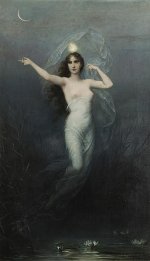 Tue, 10 May 2022
The toad winked an eye
into the side of his head,
unfurled his tongue
and snatchgulped slippery
the lozenge of a slug.
The darkness said --
do not steal the moon
or the dead will find you 
and fetch it back, 
their pearly stone,
their lifeless rock.
Dew settled upon
the toad's cratered back,
the seas no longer ebbed 
and flowed,
owls were struck dumb. 
I weighed the night
on the scales of absence
until nothing was or
ever could be marvellous
anymore,
I cut the moon
into new quarters, 
I buried the light. 
Image is from here: https://commons.m.wikimedia.org/wiki/File:Karl_Schweninger_(attr)_Luna.jpg