Mother Dies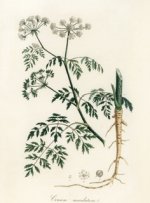 Thu, 01 Jun 2023
1 likes
Mother Dies is another name for cow parsley - very possibly to dissuade children from picking it as it looks very like hemlock. 
 
Death grows everywhere --
hemlock in the midst of cow parsley,
both wild moons scattered, ghosts 
of verges, white whisperers 
of the riverbank, flourishing
beside the dead. 
 
I said, do not return, rest,
for here mother died where she gathered
armfuls of starlight and poison;
I could not say if it was accidental.
We could ask ourselves and 
deliberate, 
and dwell amongst the questions --
the dark earth, the ever-hungry worm,
or we could call it cow parsley
and moonshine and tell each other
that it was just a mistake.
Despite it all, let us be,
let us have now, 
death is for another day, 
tomorrow,
a promise
that will always be kept.
Image is of hemlock and is in the public domain.