Luna Moth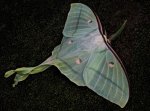 Mon, 23 May 2022
1 likes
Did you stop to gaze at moon,
hypnotized by its beauty?
Moth with unfolding wings,
in wild trance and zephyr's
breeze; fluttering limbs with
ease...sensations quiver.
Sadly your time is short upon
this earth, to sow your seeds
before you're done; needing
mate to procreate, for new life
to facilitate.
In respite – winding down as
approaching soon daylight's
gown; anticipating nights to
follow, stars lingering bright
in space they seem to wallow;
as glowing sphere poised in
darkest sky...seems so near,
yet clearly far.
Was this moth resembling
ghost just passing by in
silence? With long back
wings and tail, transmitting
sounds its presence to veil,
bat darts this way and that
unaware of moth's existence,
be quick gentle harmless Luna;
for you only have one short week
before your life's work's complete.
Inspired by Di Hard's beautiful poem: Butterfly Moment.
Free to use pixabay image.
For more information on the Luna Moth. Check out below: