Blue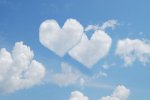 Wed, 16 Nov 2016
3 likes
BLUE
I don't remember his face
it was so long ago -
small, crumpled yet perfect to me,
but I do remember the silence
after he ceased to breathe,
I looked, I saw
blue
before they took him from me
I never asked where...
and neither did you.
So different with you, his sister -
you I had for half a lifetime
yours, mine – but not long enough
You remembered him too,
faint, disconnected memories
of a baby, who came and went
leaving your child-mind in turmoil
as mine is now...
I see you on my shower-seat
that last Sunday -
woman-child,
as I bathed you, washed your hair
dressed you...and one last time
laid you on my bed,
watching for the rise and fall,
noting your pallor, searching for pink -
reassured hearing your soft snoring
You asked for tea, Earl Grey,
your favourite, made with love
and gratefully sipped -
I've had a nice time, you said,
as I held back tears, wanting to
keep you right here, fearful…
I let them take your brother,
but I knew that couldn't happen again -
brother and sister,
new and young-old, my
imperfect creations -
so I returned you to the so-called
place of safety.
Three days later I heard a doctor
utter those same words -
your son/daughter hasn't made it,
I'm so sorry..
Disbelief - I had to check for myself,
see your lifeless body
noting your hair needed washing again,
when I touched it, it felt the same -
next Sunday, I thought -
but then I saw your face,
mouth half-open as if to speak,
and I knew what I did not want to know -
fate had struck twice
two out of three.
I had seen blue before, so of course
I knew - kissed you goodbye and
turned to my one out of three,
my only child, still holding on to you,
willing her life into yours..
blue, she said
I nodded,
Blue.