2002-05 My memories of working at a hostel for homeless men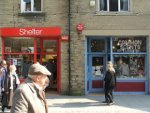 Fri, 11 Aug 2017
1 likes
It wasn't my first time working with people who had become homeless. It was 22 years after. I was now 43, working in Exeter not Belfast. The system had changed a lot.
St Francis House* had 40 bedrooms with  basic furniture and handbasins. Heroin users were expected to store their 'sharps' in yellow plastic buckets and to hand in the full buckets at the hatch in front of the downstairs office. Drinkers were allowed to drink in the 'wet garden'.They had to hand in their bottles and cans at the hatch. The wet garden opened at about 8 am and closed at about 10 pm.
The drinkers were far more demanding than the heroin users. Heroin appears to knock people out quietly. 
On an average Monday morning by 11 am at least 20 of the men who lived there, I hate the word 'residents', were under the influence....
The staff levels were bizarre. The second year I worked there Tony Blair put piles of money into homeless work. On a weekday by 10 am there would be 2 project workers on shift, one senior splitting their time between upstairs and on shift if needed, two cleaners, both hardworking, Wendy in her jeans and tabard and Ben in his jeans, and four resettlement workers in the upstairs office. We also had Trev who had recently applied for the newish post of Meaningful Opportunities Project (MOP) worker organising 5 a side football nearby with the men who were up for it.
In downstairs office suite we had Paddy, the manager, office Karen who was good, and Carly the deputy manager. Soon Merv, the cook supervisor would come in. Part of his job was motivating the men towards cooking the evening meal and there were often some who were keen to get involved and keep busy. Breakfast supplies were cheapo supermarket stuff but the 10 men on the Assessment dorms got a full cooked unless they requested scrambled egg on toast or other requests. The 30 men on the Resettlement side of the building were expected to self cater in the huge kitchen which was divided into 'pods'. Carly agreed that Merv could buy the evening meat from Hartnell's, Exeter's quality butcher.
Visiting personel included Tess the practice nurse from the Clocktower surgery twice a week and Dr Bill from the surgery on callout. Both were motivated.We also had the four resettlement workers from the Homeless Action Group(Exeter HAG) and one motivated probation officer, Ray, ventured into the building. Alaric the community cop sometimes paid impromptu visits. 
On Saturday evening the senior finished their shift at 8pm, leaving two members of staff to handle everything unless we needed to call 999. Sometimes this would be me, although I never progressed beyond relief bank worker, together with a less experienced relief bank worker.
After the evening handover there were two staff, the night project worker and the night domestic/breakfast cook.
I got to do all the jobs although I did not feel ready to take on the night project job until I had been there 6 months. One shortstaffed Sunday morning, which tickled my sense of humour, I arrived as soon as the first Exmouth bus would let me to find Mike, the other relief worker doubling up as cook, letting the men in when they buzzed the entryphone after scanning the CCTV. He had his feet up on the table and was peeling a big pan of potatoes.
My worst night was was my 3rd night shift as one of the guys died and his friend found him dead on his bedroom floor. Sammy Gates hared down to the hatch just before 4am shouting 'he's brown bread, Mac's dead. I know I've seen it once before.'
I hared up to Sammy's room thinking 'I hope he's wrong and Mac's simply passed out.' However at first glance I knew that Mac was beyond rescussitation. I checked for pulse and breathing simply to satisfy my initial 999 call.
First in was the ambulance crew, followed by the doctor who estimatated that poor Mac had died around 2am. Then followed another more senior cop and a police doctor. Last in were the undertakers, a middle-aged stocky chap and his younger, slighter built assistant. They were able to carry him down two flights of stairs on their stretcher without him slipping off although it was a close call.
Then followed my writing the night report for the morning changeover, whilst receiving police calls informing me that young Josh who also lived at St Francis House had jumped on a few trains without paying his fare and was now in police custody in Somerset. Thanks for letting us know his whereabouts and no, we did not have the staff to collect him.
By now the first of the men were waking up ready for the day ahead. My night domestic was brilliant. He spent a lot of time with Sammy, both calming him down and attempting with little result to get information as to the causes of his friend's death. He also continued with his regular tasks, popping into the office regularly to check that I was Ok. Another member of staff, young Jim was also great. Jim habitually arrived at work early (!) and when I told him what had happened he told me to go down to the office for my writing up and he would handle everything upstairs.
I read out the account of Mac's death at the morning handover and the manager congratulated me on the conciseness of my report which I had done as a straight timeline. I then went home.
I did not have another shift for 2 days. The night domestic was back the following night. One of the staff was the same age as Mac and they had been part of a crowd of pals at Exeter Uni in first year. Most of the crowd had enjoyed some drink, drugs and partying and had gone on to lead a regular life. Mac was a casualty.
On my return the manager asked 'had I got over it?', another relief bank worker worker who I liked asked me had I had counselling. I hadn't but I used to go to the Quaker meeting house and had talked about it there as well as listening repeatedly to a music soundtrack that helped.**
Simon, one of the resettlement workers had done the booking out paperwork on the next shift. He had then written in the handover book 'Booked out, may he rest in peace.'
Most shifts were better than that. I was not very good at laying down the law over trivia but I had reasonable listening skills and was quite good letting the guys let off steam or talk about sometimes feeling down. I don't blame them for feeling down and I would have hated to live somewhere where I was not free to come and go as I pleased and had to me let in by  staff after buzzing an entryphone and being looked over on CCTV. I am sure I would have got evicted for 'kicking off' within days. Also although I was usually not afraid to work there and when I was I hid my fear as it would be no good for the guy's sense of safety if they saw that I was afraid, I would have been terrified to live there. There was a lot of bullying and taxing***, generally when the staff were not looking.
Things have changed again. For the worse. Funding had been cut, cut and cut again. Night shift paid £13.50 an hour when I worked there. St Francis House got taken over by  a large corporation and a few years back the rate got cut to £10.50 an hour. It may have been cut again.
In Exeter today there are now more people who are homeless but no more beds. The building got a makeover but in image alone, the bedrooms are still the same size. Some of the staff are now voluntary workers.
I went back two days ago. I was delivering prospectuses for the Devon Recovery Learning Community where I now teach creative writing. I wanted to show the staff that I had not disappeared off the planet as one of or two of the staff I knew are still there and my name is in the middle of the prospectus. Also the classes are great. It is all free and available to anyone although you have to pay your own transport back and forward. I have registered as a learner for Scuba diving and Djembe drumming. My boyfriend has signed up for more Mindfulness classes. Years ago Pete spent 6 months as a novice Buddhist monk in Japan and he says the tutor is very good.
Half the building is now getting rebuilt again. A man of about 30 was outside the resettlement door with his friends. He had just been evicted for missing a meeting and wanted to tell me all about it. A young woman at the door appeared to be coping. I handed her the booklets.
'I don't work here' I told the man.
* Names changed including the project, the dead person, his friend and the train-jumper and the staff unless they got a lot of things right.
** The song is 'For You' from the American band Staind. 
*** Taxing is forceful begging. Often the guy who is taxing will pounce on a guy who has just got his Giro and will promise to give him the money back.