With Obsidian Eyes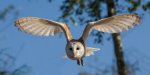 Thu, 29 Aug 2019
Gracious wings pass under shape shifting clouds,
gliding on soothing current of zephyr air, pursuing
verdant open expanse, as evening shadows sweep like
mysterious ghostly souls across hills and valleys below.
Scanning land and skies mythical enigmatic eyes,
searching for prey through sprinkling of rain.
Does owl have anywhere special to be? Why yes!
Hungry mouths need feeding. Inhabits a barn,
farmer doesn't object as she glides in through
open beams where shafts of light stream in,
In passage of time her young will grow
undertaking preening and learning to fly,
farmer's eyes will gaze with delight
as this bird of prey takes flight.
Picture from pixabay free.