I Want To Tell You Things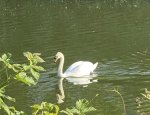 Wed, 22 Apr 2020
The swan in her doctor's coat
eyes me from the bank side,
she ministers to the jade fabric of it,
windblown, creased and
overhead, the sun disappears 
as wounded as love can be,
oppressed to a scarlet tear.
All these things that we have forgotten
in this business of remembering,
that we must make room for now.
I imagine the glide of affliction
as it settles the virions of itself,
but the air was never sanctified
and the river is not holy water.
We borrow old saints and angels,
we look at each other differently 
and I want to tell you things
I have not told you before.
Image is my own from my current swan stalking obsession. 
https://soundcloud.com/user-567085844/i-want-to-tell-you-things-m4a