Pad Life 10: Monstrosities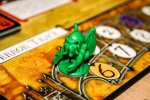 Wed, 29 Apr 2020
4 likes
A sodding great asteroid is going to pass within a spacecat's whisker (only 3.9 million miles!!) of Earth, and the same week the Pentagon decides to release US Navy videos of UFOs.  Coincidence??  I DON'T THINK SO!!!!
    At the same time, a pandemic sweeps the globe, engineers are blanketing – blanketing– the planet with 5G, and Boris Johnson has a baby!!!!!  WAKE UP SHEEPLE!!!!!  Cthulhu is rising!!!!!  END OF DAYS!!!!!!!!!!!!!
    [For those who didn't spend their teens reading horror fiction, Cthulhu is H.P. Lovecraft's monster to end all monsters.  Or H.P. Lovecraft was the channel by which the mighty Cthulhu chose to reveal himself.  Pick a side.]
    You want to know who's really running things?  Ant McPartlin, that's who.  You think it's just chance he always stands on the left of Dec when they're on TV?  Huh!!  The left is the sinister side.  The dark side.  Ant McPartlin is responsible for Coronavirus, and only Trump is trying make it right.  Only Trump is trying to negotiate with him for our lives.  Only Trump issued the plea:  DIS-INFECT, ANT!!!  Let us go!  Set us free from this plague!
    Or, or, Trump is Ant McPartlin's Id monster, like in Forbidden Planet, and he's subliminally encouraging us to inject essence of Ant into our veins.  You know back in the eighties there was that Tell Sid campaign, encouraging us all to buy shares in newly privatised utilities?  So now the wild-eyed Thatcher banshee is guiding the Trump Id monster, by means of a diabolical code:  ANT, INFECT SID!!!
    Well, it passes the time, doesn't it, this conspiracy theory lark.  The above 'coincidences' (Yeah, and the point of a coincidence is that it COINCIDES with something, so wake up you out there!!!!!) are the result of a few second's thought this afternoon, but I'll bet you can find each and every one of them on the internet somewhere.  It's OK.  I'm not claiming copyright. 
    In my defence, I have had a bang on the head recently.  There I was, entering my bedroom with a basket of nice clean laundry to put away, totally unaware that Little Cat was playing with dust balls under my bed.  Cat decides my feet are better playthings than dust balls, I go base over apex, face collides with corner of wooden bed frame.
    All spectacles wearers will know that the first thing you think when your face hits something is 'No, not my glasses!'  Unless, I suppose, you're rich and have three extra pairs tucked away.  I can't see more than a foot in any direction without mine, so the next thirty seconds or so was basically 'MY GLASSES, MY GLASSES!!!!  SODDING FUCKING CAT!!!  OH GOD MY GLASSES!!!  YOU'LL BE VIOLIN STRINGS BY TONIGHT, CAT!!!  MY GLASSES!!!'
    Only when I had ascertained that the glasses were fine did I pause to think 'What the hell is all that red stuff on the laundry?'  The following thirty seconds were therefore 'BLOOD!! BLOOD!!! I'VE BROKEN MY NOSE!!  I'VE BROKEN MY CHEEK BONE!! I'VE SMASHED MY TEETH IN!! CAT!!!!!!!'
    It was none of those things, just a deep cut and a black eye, but I'm on blood thinners, so when I finally made it to a mirror I looked like her in Carrie crossed with him in Raging Bull.  Little Cat, to be fair, was terrified, and sat on the edge of the bath while I mopped myself up, mewing and putting out an occasional paw as if to verify that this blood-soaked lunatic was just Herself gone bonkers and not, in fact, Cthulhu.
     The Scion made his daily video call a couple of hours later.  'Why have you got seven plasters and half a roll of cotton wool stuck to your face?'  After he'd finished giggling, his sympathy was genuine and touching, if dulled somewhat by his parting words:  'Ah, shame about your face.'  Story of my life.
    The purpose of his call was the Five Question Challenge, which he has instituted in an attempt to help his aged mother retain at least a few marbles during lockdown. Each of us chooses a topic and the other has to come up with five questions on it for the following day.  If you win, you keep your topic for another day and the questions get harder. We're not allowed to do any reading up, it's purely a memory challenge, and I've discovered I don't remember more than two and a half days about anything. The furthest I've got is Day 3 on the novels of Alan Garner, and the 1980s TV series 'Edge of Darkness'.  The best the Scion has done is Day 3 on the Disney Renaissance (which I didn't know was a Thing) and Christmas songs.  I have no idea what this says about our cultural and family life, and if you have an opinion, keep it to yourself.
    In addition to being a jobbing musician and actor (for whom there are now no jobs) the Scion is also, in normal times, a quiz-setter for hire, geek subjects a speciality.  In the absence of any gigs for that either he has also started a weekly Family Quiz.  Every Thursday afternoon he and Girlfriend are joined, via video, by me, the Princess, and Bugger Lugs, my ex and the kids' dad.  We are far from his usual standard of participants, who could tell you on what days Captain Kirk changed his underpants, but for the moment we have to do.  All I will say is that on the two occasions Bugger Lugs and I have tied for first place and required a tie-breaker, I have won.  Ha.
    Other diversions include my weekly evening class, which is now being done via the university's own version of Zoom.  I do a class every term, plus some weekend day classes if there's anything that catches my eye.  I've done quite a few writing ones, and history ones, and a few years ago I did a beginner's guide to quantum theory.  The good thing about doing a course on quantum theory is that you don't have to feel thick for not understanding it, because no-one understands it, not even Erwin Schrodinger, although his cat may have had more of an insight.  Comforting for anyone who, like me, needed two goes to get GCE Maths.
    This term I felt I'd recovered sufficiently from quantum theory to tackle An Introduction To Galaxies And The Universe.  The pictures from the Hubble telescope (Happy 30th Birthday Hubble!) are stupendous, but pretty much all my dazed brain can take in from the rest is, to quote the great Douglas Adams, 'Space Is Big.'  Bugger me, it's enormous.  I know we all know it's enormous, but even when you think you've accepted it's enormous, you haven't really. 
    I would like to say that the class has given me sense of perspective on what's going on right now, and soothed my mind with the thought that we and our problems are all less than a trillionth of a blink of an eye as far as the universe is concerned.  But it hasn't.  It's actually made me reflect on how precious we all are, huddled here on our little planet that needed so many improbable things to happen at just the right time to allow us to be.  That's made me even more grumpy than I usually am, because it emphasises just how big a bastard you have to be not to care what happens to the little planet and its inhabitants.  Yes, I watched Panorama.  No, I'm not stupid enough to think our leaders give a flying fuck about us.  Yes, I retain the capacity to be shocked by their brazenness.  Also – it's stupid.  It genuinely puzzles me.  Thatcher was cruel and heartless and manipulative but, if you bought into her ideology, her actions had a dark, twisted internal logic.   Even for people whose ideology is 'Me First!', happily planning to kill thousands of people by not providing key workers with the right kit makes no sense.  None what so bloody ever.
    I do understand why people take up conspiracy theories. Thinking that Ant McPartlin is an agent of the dark side makes a lot more sense than thinking 'Our government made a deliberate choice to kill health workers.' 
    Ah well.  I have to go and look up questions on Macbeth for the Scion (Day 2 – will it be 'tomorrow and tomorrow and tomorrow' or 'out out brief candle') and try and remember something, anything, about my topic, The UK Singles Charts 1972 (Day 1, and more likely to be Mouldy Old Dough than Could It Be Forever). 
    But I leave you with this thought:  yesterday, I picked the UK Singles Chart 1972 as my topic for today, 29 April.  That's 29/04.  If you add 1972 to 2904 you get 4876.  4876 Broadway is the address of LabCorp, which describes itself at 'The World's Leading Health Care Diagnostics Company', and which is currently offering tests for Covid 19.  Coincidence?? I DON'T THINK SO!!!
    Rise, Cthulhu.