Mehtab Bagh (Moonlight Garden)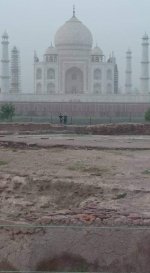 Mon, 08 Feb 2021
We met on the mezzanine,
lobby of splendour and gold,
our bearded, mystic Hindu guide,
spirited tourists into seats.
Passed meandering, sacred cows,
shuttered shanties on streets,
we gazed through glass, pre-dawn,
hazy rays skimming the horizon.
It was in the Mehtab Bagh,
moonlight garden of a fallen Shah,
where we strolled amongst
ornate fountains, narcissus and fruit trees.
Across the divinity of mother Yamuna,
we gazed its ivory tomb,
crenelated walls and minarets,
Mughal mausoleum to beloved Mumtaz.
And as an Indian Sun
crested its morning sky,
hearts and souls were left
amid white plaster walkways.
*Image is my own