Forgotten Souls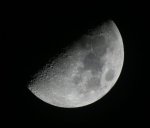 Wed, 24 Feb 2021
I see you late at night,
as daylight's candle flickers out,
empyrean canvas painted black,
stars of alabaster speak in hushed tones.
Moonlight beams cast solemn shadows,
neon street lamps, urban penumbra,
ethereal silhouettes in twilight's hue,
a covert blanket for nocturnal creatures.
Souls float beyond the visible ether,
Heaven waits enwrapped in shrouds,
Carrion crows blink milk-lid eyes,
mystic guardians of lost spirits.
Sirius beckons humanity's gaze,
Venus glints its stellar coruscation,
planets rotate in orbits of infinity,
eternal arbiters of celestial divinity.
I remember those now fading times
when we drew on life's breath,
fleeting moments, bittersweet teardrops
in an ocean of our making.
I see you late at night.
Image at https://commons.wikimedia.org/wiki/File:Moonfromoakland04052006.jpg with no copyright issues and free to use