At Least Whiskey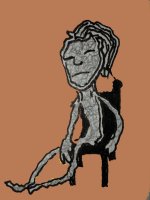 Thu, 01 Apr 2021
It is fabled the consternation one carries with persistence as a catholic but the readiness to believe in supernatural beings other than those proffered by holy scripture, fairy-folk and wailing ghosts and witches and headless horse trainers and changelings and giants and bloodsuckers and all manner, held out just as long.  Devin suppressed these inveterate inclinations more often than not and let on to all around him that he was grounded and rational.  Nobody wants to be seen as a kook.  
But now there was no-one around.
The zeal to see for himself the bog man in his hideaway returned so he put the tape recorder down and moseyed back to the staircase.  Get away the fear of God, he thought to himself, to fight off the delusions of his upbringing and he found it easier having less alcohol swimming about in his system to do the old perversion of thought.  For it was true the thing might have looked like some wicked eldritch on the film he'd seen, but he had the shining light of reason on his side this morning.   And no hangover to rock his composure.
There was a lack of carpet on the stairs so each board his foot landed upon groaned like a falling tree.  He proceeded with care for fear of waking anyone up.  He found when he reached the top a second hallway that mimicked the one downstairs somewhat, three rooms on the left and three more on the right; sure Elder's was near enough a hotel in Devin's eyes, having not been inside a house of its size before.  
There is a feeling you get when you find yourself all alone in a part of someone's house, one which they have failed to give you a fully guided tour of: it is the feeling that secrets are within reach of knowing. 
There was carpet on the upstairs floor thank God and a combination smell of oxtail soup and chewing gum and chocolatey wine.  Sniff.  Devin's olfactory talents were strong when uninfluenced by alcohol.  Sniff-sniff.  He should really give up the drink and work more on these abilities. 
At the end of the hall, there was another set of stairs which led in all probability to the loft so he stole towards them quietly, and when he reached them, well, if ever there were stairs primed for noisemaking, it was these ones, narrow and shaky, made of long in the tooth wood; and sure as the day the first stair squawked like an old gull as soon as he put his foot to it.  He continued upwards and after conquering all thirteen of them, he found himself before a small door; happily it was not locked and he was able to push it open handily, whereupon he was met with gusts of white dust and glare.   The loft seemed smaller as he entered than how it looked on-screen and there was no black film drizzle in front of you to park you safe in the stands of reality.  Funny how on film things appear either less or more frightening depending on the light and perhaps also your perspective as a viewer.  It had looked like one of those hoarerflums, as his mother used to bless herself and call them, but now there was none of that contrivance.  Here now was your typical attic space, a little webby here and there but relatively clean, apart from a few dead flies on the floor that the brush and dustpan languishing in the corner had missed on its last go-around.  You'd think the flies would be all over a dead body, especially with the stink around it, which his abilities identified as powerful but unlike the pong one would expect of a festering old carcass.  It was kind of fruity.  Sniff.  Like in the kitchen.   But the flies were all flat on their backs.  Big fat ones. 
The new day beaming in by skylight made things in the room visible but very drab – one of those disinterested Sunday morning greys come to take over Saturday with its tedium.   In the centre, the figure on the chair sat there solo in the tedium and was as a result of the prosaic lighting much clearer to the eye than it had been on film, though no less horrific in appearance.  Thin and haggard and almost folding in on itself as though the bones had been pulled out somehow leaving a doughy exoskeleton behind, it was however a body intact, though a frazzled and beaten one.  You might be given to question if it was hominid at all because it was so much taller even sitting down than the tallest upright man Devin had ever seen.  It had the look of a long strip of bacon neglected for hours and stuck to the pan, the skin all burnt and scabrous.  A ginger mane on the head like what you'd get on a squishy toy lion.  Imogen had referred to the discovery as a man, and it might have been...but also it might not have been.  Bowie would have envied its bash at androgyny.  Devin decided to go with what the others were saying and call him a man too.  As he looked closer into the face, that it was a man became more likely.  There was anguish frozen to it that he'd only seen in men before, the kind you'd see on a man who'd spent all his life demanding respect only to have it all torn away from him in his last moments, the mark of manliness conned.  Devin didn't have sympathy for those men usually.  But the heart was bleeding more easily now.    
On the floor next to the chair was a bottle of whiskey.  Midleton Reserve.  Near full.  The deceased was well looked after. 
Devin took it upon himself to test just how well looked after.   
As he sipped at the whiskey, his mind began to wander imagining how his own mortal odyssey would end, and assuming for a moment that the body was his own, unearthed by a crowd of hippies after a thousand years in the ground.  He wouldn't call it a future to pine for but the whiskey was good nonetheless.  Even if the hippies eventually sent you round the bend, at least you had the whiskey.