Gold, Silver and Bronze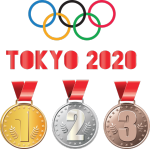 Mon, 09 Aug 2021
2 likes
It's all over bar the shouting
which goes on and on.
There is no much doubting
that Britannia is euphoric.
Every event is historic
and the results achieved
are clearly meteoric:
it's the athletes' apotheosis.
Jubilant cries are heard
telling people that a hoard
of medals has stirred
their nation's emotion.
Pundits say, "Isn't it great?
The last time we won this
was in nineteen-o-eight."
and recall past glories.
They talk of statistics,
how the Games compared
with the last Olympics,
and of changes made.
They will not shut up
but carry on as they do
with the world cup
won in nineteen-sixty-six.
Perhaps it's the remedy
for our current ills,
it may resemble a comedy
but it's better than pills.
© Luigi Pagano 2021