Look Up The Inferno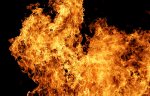 Sat, 18 Apr 2020
1 likes
Behind de avenue, past de dump, and along de side of de Castletown River is whur dis year's bonfire is happening.  De last two weeks we've bin hauling de stuff troo de town and leaving it in de spot we chose, not far from de muddy banks of de river – dat's Dixon, McGurk and meself, as well as a few udder stragglers who've come along ta help on different days.
We weren't sure if many people wud show up fur our bonfire but we put de word out and now dey all seem to have showed up.  Dere's Kevin Muckian over dere, and Tommy and Jason, and de Devenneys, and de Priors, and Cathal Blood, and Micko Dwyer, and Sinead Fallon and Skeggy, and Andy de wino-boy, and Rat Macardle and Philomena Neary, and Joycer, and Declan Finnegan and his wee brudders, and Glenda Tiernan, and Pete Lennon, and de Cronenbergs and Mary de gerl-nun.  And a load of udder scummers I don't know.
It's a warm Friday night in June.  And it'll get warmer when de fire starts.  De sky is still blue at nine o'clock but dere's stripes of fizzy orange in it like it's a chew bar ye might be able to reach up and pull a piece off to eat.  Like a Stinger bar.  Or a Desperate Dan bar.  De sweets we eat are always more colourful in de summer fur some reason - fruit salads, flying saucers and apple drops.  It's all Caramac and cough sweets when school's on fur some reason.  I hate Caramac.  Dere's an old box wit Caramac written on it among de pile of stuff we have ta burn so I make dat de first ting I fling on de fire.
--Burn, Caramac, burn, I shout.  I'm hopin people will laff at me Caramac line but nobody does.  Nobody hears me.  De fire has flared up pretty quick and now it's too loud wit all de spitting and crackling, most of de noise comin from someone's old chair which McGurk hurled on de top, now dyin a sad violent death.  If all de people who ever sat on dat chair cud see it now, dey'd probly be upset to see a million memories of sitting on it burn away in de fire.  Unless dey hated dat chair.  Dere's plenty of chairs I've hated in me life.
--Lookit, says Dixon.  Dere's some older fella comin. 
Wur always on de watch fur nosy grown-ups coming by to piss on de parade.  Most of dem don't care.  It's a tradition in de town, shur, de bonfire.  But ye get de odd dry shite.  Dis fella coming along on his bike now luks like a dry shite, just has dat kind of head on him.  He's not exactly a grown-up though.  Just an older and bigger fella. De sort dat's already left school.
--Dat's Glenda Tiernan's older brudder, says McGurk.  He's a prick. 
--Come on, Glenda, I hear de chap on de bike say.  Dad says ye have ta go home.
--Jus a few more minutes, says Glenda.
--Dad's gonna kill ye as it is so get yourself back.
Glenda Tiernan stamps her fut, spins around and legs it off home.
De fella wheels his bike over to us because he no doubt knows dat we're in charge of de bonfire wit McGurk standin among us.  Dere's fire wherever McGurk is.  De hole town knows dat. 
--Dat's a crap bonfire, de fella says to us.
--Whut wud yoo know? says McGurk.
--Back in my day we wudn't have annyting less dan an inferno.
--Whut's dat?
--An inferno?  Ah, yiz'll find out when yizzer big boys.  We burnt more dan jus old furniture, ye know.
--Oh, whut else did ye burn?
--Wee fellas like you, no joke.
--Ah, gway and fuck.
De fella laffs and den says: Nah but we wud burn more dan just oul chairs.  Ye'd see steering wheels from cars, grand pianos and electric guitars on our bonfires.  We even robbed de font from de chapel once and lobbed it onto de fire, ye know de one ye bless yerself out of.
--Yer a lie-uh, says McGurk.
--No joke.  We wur mad ones back in de day.
--We burnt a tractor tyre once, I say.
--Gway wit dat.  Yooz are too small to get a tractor tyre.
--I bet ye anny money we did.
--A toy tractor tyre probly.  A fuckin dinky. Annyway, me lesson's over fur now.  I'm outta here.  See yiz.  Try better next year.
De fella gets on his bike den and rides off wit his chest up high, away to collect his many many awards probly.
--He's a lyin cunt, says McGurk.  Dis is one of de best bonfires dey've ever had in dis town.  He's just jealous.
Over de next half hour, de sparks dubble up on demselves as we trow more wud on de fire and de flames rise up to luk like someting I can only imagine is possible inside McGurk's dreams.  Red stabbing knives dey are and de sky starts getting grim in de face of it.  De stabbing gets more feerce.  And awful heat grinds into our faces.  I can feel us all becoming slowly a little rattled.  As if we all know we've lost control of de fire and now it's got a mind of its own and wur all just a bunch of wee kids underneat it wit no ways or means of stopping it.  It's hissing like some demon now and wur in a stunned silence, all of us, like we've started de apocalypse by accident.  Even McGurk luks a bit scared fur a second.  I notice Mary de gerl-nun high tail it – no God around here to protect ye, Mary.  But when I luk at all de udder faces, I see de fear start to fall away and it's replaced again by big wide-eyed WOW expressions, like de one I'm sure is on my own face if I cud turn and luk back on myself. 
I can see Ethel Prior at de udder side of de fire.  She's lukin over at me, her face all muzzy red behind de blaze and scary too as she's wearin a dark tracksuit which luks like de black robe of a witch in de shadows and under all de flickering cinders.  She's so tall is Ethel Prior.  Fur her age.  She's near as tall as her very own mudder.    
--Now didn't I tell yiz dis wud be de best bonfire yet, says McGurk, all proud of himself.  Fuck dat numbskull wit his grand pianos.
--Still, says Dixon.  A grand piano wud be gud.
McGurk nods.  I can see he's actually tinkin about makin dat a reality next year. 
De sky is closing up now getting darker as de blades from our fire keep hacking away at it.  We haven't treated dat summer sky too well tonight.  It wus all sweet to begin wit – now it cudn't be boddered at all wit us.
Dixon goes to de burnpile and picks troo it for a bit until he finds dis huge picture frame.  Dere's still some glass inside de frame, bits broken off at de sides.  Dere must have bin a picture behind de glass sometime in de past, but now it's empty and all smashed up.
--I wonder whut kind of picture used ta be in dis, Dixon says.
--Yer mudder, laffs McGurk.  In de nood.
--Yeah yeah, says Dixon.  He holds up de frame – it's really massive – and he steps back and den hurls it full strength into de bonfire.
Dere's a huge explosion of sparks and ash.  Most of de kids behind us all shrink back and gasp at de explosion, but we don't as we're supposed to be in charge of de bonfire so dat means we shud be safe from its meaner blasts but we're not – not at all dis time annyway – and a spurt of red hot splinters comes flyin out and we have to take cover too.  But McGurk – he gets caught in it and yells out.  He pulls back wit his hands over his face and moans.
We all tink fur a moment dat McGurk has been burned by de fire but after he takes his hands away from his face we see dat he's okay.  Just a bit sooty in de face.
--YE FUCKIN DIPSHIT, DIXON, says McGurk.
--Whut did I do? says Dixon.  He's trying ta sound innocent but he doesn't luk it.  It's obvious to everyone dere dat he knows right well whut he did.
--YE FUCKIN TROO DE TING RIGHT IN FRONT OF ME!  YE CUD HAVE KILLED ME, YA CUNT!
--Ya shudn't've bin standin so close.  Annyway, it's oweny a wee bit of fire.  Stop yer whingin.
--I'll fuckin kill ya, says McGurk.
--No, you won't, says Dixon.
--I will.
And dey go back and fort like dat.
I'm afraid dey're goin ta fight because McGurk luks really angry, angrier dan I've ever seen him.  McGurk might be taller, but Dixon is a far better fighter and wud probly tump de head off him. 
McGurk suddenly picks up a half-burnt beam of wood.  He aims it at Dixon and den he goes and swings it.  In a half-arsed way though.  Too far off from Dixon to hit him. 
Dixon walks straight up to McGurk and hits him a slap across de jaw dat luks like a sore one.
I've seen de two of dem arguing before, shoving, even wrestling a wee bit, but I've never once seen a slap or a tump between dem.
McGurk is quiet for a bit, den he says fuck off under his breath to Dixon and runs off.
Some of dem start laffing behind us.  I can see Kevin Muckian cackling over dere.  I've a good mind ta go over and give him a tump meself fur laffin at my mates.
Den it's just me and Dixon left in charge of de bonfire. Which is sad because McGurk is de king of de bonfires.  He's yer only man fur de bonfires.  And now he's gone.  Dixon doesn't say annyting to me.  He picks up a few more bits and pieces and trows dem (lightly) into de fire.  After a while, he says to me dat he's goin home and he walks off.    
Wit Dixon and McGurk gone, I don't see anny point in hanging around.  Quite a few of de crowd has already gone home by now annyway.  Dere's only a few of dem left.  So I decide to start headin back meself.
As I walk along de riverbank, up above dere's smoke and firedust trailing along wit me like a stray dog following me home.  I hadn't noticed de smell of de fire when I was beside it, but now furder away, dere's a strong hell smell, or what you'd imagine it smells like in hell from pictures of it. 
Dere's a shadow over de river from all de black smoke and yellow sprinkles in de water which cud be from de fire or just a reflection of de stars.  But I tink it's de fire because dere are more sprinkles dan ye can see stars.
I can hear futsteps behind me.
When I turn, I see a tall figure approachin and soon I see it's Ethel Prior.  She's by herself. 
--Hey, I say.
--Hey, she says.
--Goin home?
--Yeah.
--Me too.  How'd ye like de bonfire?
She comes closer to me and says: Wus a big one.
--It wus indeed, I say.
Ethel smiles.  Dose big front teet of hers are even bigger and shinier up close.
--Where's yer brudder and yer friends? I ask her.
--Dey stayed back dere.  I got bored.
--Yeah, same here.
We start walkin home togedder.  I feel like I'm walkin wit a grown-up.  Dat's how much taller dan me she seems to be.  Or maybe it's just because it's getting dark.  I don't know. 
--I hate de midges around here, she says.
--Me too.
Small talk.  In fact, I don't tink Ethel Prior and me have ever had a proper conversation, never mind de small talk.  Dere are always people who live near you and share some of de same friends who you wud say you know well even though you've never said a word to dem before.  I can't even remember if Ethel and me have said a word to one anudder before.  I'm sure we have.  Just can't remember. 
Den she says:  Do you want to sit and luk at de river for a little?
I don't know whut to say at first because we haven't bin walkin fur dat long when she says it and it has me tinkin dat maybe she wus followin me all along because I've had me suspicions dat Ethel Prior likes me but it's always made me uncomfortable because she 's so much bigger dan me and she has dose big buck teet and everyting.
--Yeah, okay, I say.
She leads me over some of de marshier ground troo de long reeds like she's gone dis way before.  I've never gone dis way before. 
When we get to de edge, dere are dese big grey rocks dat I've never ever laid eyes on all my time around dese parts.  Some of dem have moss and weed on dem, but some don't.  Ethel sits down on one of de rocks and I sit down on one near to her.  But not too near.
She gazes out at de river wit de black smoke and starry glitter.  It's a horrible lukin river but it luks alright now troot be told.  I try to tink of sometin ta say and den it comes ta me: Ethel, do you know whut an inferno is?
--Eh...no, she says.  Wait, I tink it's a buk.  My mudder has a buk called The Inferno.
--Ah. Sounds like it wud be a buk.  Okay, tanks.  I'll have ta luk it up.
--Yer mate wus fairly pissed off back dere.
--McGurk, yeah.  It wus a special night fur him.  I don't tink it all went de way he thought it wud.
--Ah well.  Dere's always next year.
--Yeah, but tings might be different next year.
--Oh?
--Big school next year, ye know.
--Right, yeah.  But yiz'll still do bonfires.  People don't just give up bonfires when dey grow up.
--Some do, I tink.
--I love bonfires.  I'll go to one every year.  I don't care how old I get to be.
--Me too.  I love dem too.
A midge buzzes in me face and I trow me hands up and say: Fuckin midges, I hate dem.
--Me too, says Ethel.  And den she gets up and sits closer to me.  Knees close.  Fuck, her knees are big, way bigger dan mine.
--You know, I like you, she says.
--I like you too, I say.  Shur I don't know what else ta say.  But I'm shivern a bit.  And it's not even cold.  Whut de fuck's wrong wit me?
Ah shit, she's leanin in to me.  I keep tryin ta luk ahead but dere's no point as I'm stuck dere and in a way I'm glad but I'll never say so.  Den her face is in mine and she starts to kiss me and it's soft and I just do whut she's doin fur now as I really don't know whut else ta be doin and our lips stay stuck fur about a half hour well not really dat long but it feels like it until suddenly I feel her tongue pushing hard up against me mout battering hard against it trying to get in and me doors stay strong against de rappin fur about fifteen minutes or so well not really and den I lift de lips a bit and allow her tongue in and it feels weerd and I'm nervous about wedder I shud reply wit me own tongue but I'm afraid de big front gnashers she has mite bite it off but I go on ahead and do it and me tongue slides into her mout and actually dose big front gnashers she has feel kind of nice
WET
And den her hand goes to me bottom half and strokes me trousers on de part whur me mickey is and it's movin up and down slow and I don't know whut I'm supposed ta do but her strokin gets ruffer and ruffer and I don't tink she knows whut she's rubbin annymore because suddenly she's pressin hard on me nuts and it really really
HURTS
--Sorry, says Ethel, and she takes her hand away.  Did I hurt ya?
--No no, I say.  Dat's okay.
We stop wit all de kissin and turn to luk out at de river again.  Den we both get up and make tracks.  It's pretty late now.
As I turn up de Castletown Road fur home, after sayin bye ta Ethel Prior, I notice dere's a funny buzz in me step – like dere's wheels on me feet and I'm jus rollin along.
But den: I feel sorry dat I'm goin home wit me mout tinglin from a kiss and me mickey fondled and poor McGurk's on his way back wit only a slap on de jaw to remember on de most important night of his life. 
But me nuts are sore, I suppose, so it's not all hunky-dory my side.
I hope Dixon and McGurk make up tomorrow and wur all still friends.  Udderwise I'll have nobody ta tell about whut Ethel Prior did ta me nuts.