Debris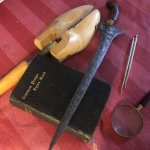 Mon, 29 Nov 2021
2 likes
I am not ready for this to end --
Clearing your house of memories.
These things I found: seven shoe trees
Christmas ornaments, a hymn book
Also tarot cards, a guide
On converting to Islam (you did not) and a rosary.
Two daggers (daggers!), the records
For a business I do not recall
And my brother's toys (not mine).
And now I can never ask the important things
Like how to change the oil in the lamp
Or why you never took to my husband
Or what you were really doing that time in Amman.
The dishes we ate from are gone, the iron pan,
The steak you seared is ash.
And I could keep this glass
But it is not your wineglass now.
And I do not want wine--
Just to drink with you once more.