How I Came to Meet Eric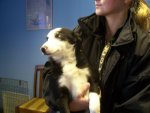 Wed, 12 Jan 2022
2 likes
How I Came to Meet Eric
Seamus O'Donnell was a patient man. He came from a long line of farmers who were born and bred in County Fermanagh and South Tyrone. This day had been an unremarkable day; a day ensconced in blue skies and clouds strung out like discarded cotton wool. Now the sun hung low on the horizon as dusk beckoned. Crows circled in the air and ancient oak trees stood tall like gatekeepers standing sentry on the horizon.
Seamus found himself staring at hedgerows, shadows forming as Shep his faithful collie dog rounded up a flock of sheep. He pulled at his flat cap, a small habit that meant he was thinking about something. Wearing a gilet jacket, hardy trousers and overworked wellington boots, Seamus looked older than his sixty years. A weather-beaten face that had seen too much sun paraded cobalt blue eyes and thick set lips; the demeanour of a working man who had poured his life and soul into his farm.  Stone walls divided fields, watching the black and white canine glide around the wool pack, cajoling them in the direction needed to keep order.
"Shame about your sister, Shep." The farmer muttered. "We think she'll give birth soon. Maybe as soon as tonight."
Sheena lay curled up in an empty barn. Cosseted with hay, her insides were churning with life. Close by, a Jack Russell dog watched on, fresh from its latest ratting. Bertie had his uses although one of them was not getting one of the farm sheepdogs pregnant. As Seamus was guiding sheep into their overnight pens, his other black and white collie was starting the process of birth. The last of the day's light slanted through the gaps in the partially open, wooden barn doors; night descending with its dark cloak. As the rest of the farm animals got on with their various, evening activities, Sheena pushed internally. She didn't know any differently and was being guided by Mother Nature herself. Most would put this down to biology but Sheena was working hard on her own to create new life. Sliding out of her body were not one, not two but three new pups. All had found their way into the world beyond the overseeing eyes of both a farmer or any vet. The mother dog licked her new litter while they stumbled about in their rustic surroundings. Membrane over their eyes meant that the trio of arrivals would be blind for the first couple of weeks of their fledgling lives. Bertie got up and slipped through the crack in the barn doors as though he was off to announce the new arrivals to the world.
****
It had been five months since the births in the barn. Roisin and Fergus took turns in throwing a tennis ball for the puppies to chase. Spring was in the air, the sky a field of azure blue marked only by the occasional wisp of cumulus cloud. Sheep bleated in the distance as bees buzzed around lavender bushes growing in a bed at the side of the garden. The three dogs scampered about, their fur coats of black and white a blur. All were distinguished by a white flash on the backs of their necks. Jim, Eric and Danny Boy were nearly ready to start their training with an older dog. Time was approaching for them to take their places in the natural scheme of things. The children giggled and screamed, Roisin in her small, pink dress and sporting pigtails, Fergus in a scruffy white tee shirt and black shorts, cuts on his knees the tangible marks of an active seven year old boy. Roisin's brother chased after a threadbare tennis ball, competing with the dogs and tugging at it to loosen it from Eric's jaws.
"Ah come now children. It's time we were going." Molly O'Donnell was a robust woman compared, by some, to the unsinkable Molly Brown. It was both her first name and indomitable spirit that prompted the comparison. Grandmother to Roisin and Fergus, her charges knew who needed to be obeyed albeit they were reluctant to part ways with the canines this morning. Something didn't feel quite right. Despite their young age, the children knew that the farm was a place of both life and death. They were still processing this, preferring to make friends with the fauna they encountered and not think about things much beyond that. Molly stood at the back door looking out onto the garden, her red and white, pinafore dress made her look like a maid, her hair tied at the back, her face plump from a love of eating. She tapped a fork against a tin of dog food. The pups didn't need a second invitation as they all scampered through grass and tore into the kitchen expecting to be fed.
Seamus pressed his foot down on the brake, parking his Toyota Hilux pick-up truck at the front of the house, dust flying into the air as the wheels screeched to a stop. It had been parked in the stone courtyard at the centre of the farm surrounded by outbuildings. He looked out at the four windows, two up, two down in a thatched roofed cottage that could have been taken straight from a chocolate box cover. The front door opened and his wife ambled down the stone pathway that dissected the front garden. In each hand she held a pet carrier, both swinging gently as they brushed rose bushes along the way.
"Are you sure we can't find a use for these two?" she asked putting both carriers down as she reached the truck.
"Ah it's two too many mouths to feed. Eric and Jim deserve good homes. I am sure someone out there will love them." Seamus looked conflicted but knew he had limited uses for so many dogs. The pick of the litter could stay. It was to be a life of servitude for Danny boy, the third of the collies to be born. Otherwise, this particular cloth had to be cut accordingly. The plastic carriers were bundled into the passenger seat and footwell, both dogs whimpering at the alien surroundings.
Seamus drove off, gazing in the near side mirror, watching his wife waving at him. It was to be a short drive to Bright Eyes animal sanctuary in Killymitten road. Enniskillen was a provincial town surrounded by countryside renowned for its castle that dated from the sixteenth century. Lines of townhouses dominated streets as a majestic clock tower loomed large over Enniskillen inhabitants. The river Erne swooped through the municipality adding to its undoubted charm.
Pulling up in a brick courtyard, the stoical farmer opened his door and wandered around the front of the truck to get to the passenger side. Scooping up both bits of cargo, he pressed his key to set the car alarm and headed along the tinder pathway that took him to the wooden cabin-style reception area. Approaching the front desk, the middle-aged woman that was greeting arrivals looked up, taking her glasses off as she did and smiling.
"And what have you got there? Two of God's most beautiful creatures, to be sure." Her voice was lilting in a way that was the opposite of Seamus's gravelly, low-pitched growl.
"I called a couple of days ago. You said you would take this pair off me hands and find them a home."
"Ah yes, Mr O'Donnell is it? I have a note here that you were calling in. Let me just buzz someone for you."
And with that, the young dogs were transferred into charitable care and, on this occasion, transferred to England by road and ferry where a further rescue centre was waiting to step into the breach.
****
Jane Allen loved her job. She had always been passionate about animal care and had told her mother that she would never get married. Instead, she wanted to live in a big house full of animals. In her twenties now, she had left college to find a career involving dogs, cats or anything appropriate that involved looking after fauna of some kind. She pulled at her black overcoat, her blonde hair tied at the back as it cascaded down her back.
She meandered along a corridor and stopped at a glass cage housing a young collie-cross. She bent down and looked at the dog inside before opening the door and entering. "This could be your lucky day." She muttered under her breath, always with mixed emotions as she was glad to see the animals in care get rehomed but invariably sad to see them go.
She gathered the canine up in her arms and headed for the reception room where prospective owners could meet new dogs. Popping the puppy onto the floor, she stooped to pick up a clipboard with a checklist attached to it. She scanned through the questions, noting the dog wandering about, sniffing and playing with toys that were scattered around. Eric had a pink nose that would eventually become black as jet. His brown eyes were surrounded by black fur with a white streak down the middle of his face making him look like a badger. His chest had a white mane that was offset by a coat of sable that gave him that classic collie look, although he could easily be mistaken for a female dog, such was his feminine, facial features.
"You have come so far, haven't you Eric? All the way from Northern Ireland, a discarded sheepdog.  I am sure someone out there will love you. Jim was easy enough to rehome. It's such a shame we couldn't have sent you both off together. Ah, life can be complicated." Jane often found herself talking the animals. She considered herself a regular Doctor Doolittle but then so did the rest of the rescue home staff.
Eric and Jim had arrived together but the visitors that had taken an interest in the young collies had only wanted to adopt one of them. They had plumped for Jim albeit it could have been either one at the end of the day. Jane had been sad to see them parted and made it her mission to ensure that Eric found happiness in a forever home as well.
Jane looked at the time on her mobile phone. It was nearly 11am and Eric's potential suitors would be here shortly. She watched as the pup played with a well chewed, teddy bear. The sound of footsteps approaching could be heard in the corridor. A short knock was followed by the handle turning and the door opening. At that moment I walked in and was met immediately by a young collie cross dashing from its carer's arms and into mine.
That was the first time I met Eric some sixteen years ago.
Footnotes:
I adopted Eric the collie-cross in 2006. My daughter re-named him Skye on the return journey from the Dog's Trust rescue centre in Kenilworth whilst sitting in the back of my car. This beloved woofer of mine remains my best friend as he approaches the grand, old age of sixteen later this year. This story is as told to me by Eric/Skye recently.
Image is my own and a pic of Eric aka Skye with his carer at Kenilworth Dog's Home from 2006.
https://www.facebook.com/photo/?fbid=604660389576581&set=a.553438904698730