Forget-Me-Not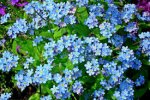 Wed, 27 Jul 2022
3 likes
Zeus waited till last hour
to name this flower; roots
creeping through darkness
of soil...calling out to be
noticed, will you one day
become extinct upon this
earth?
For when I was born dad's
surname I took; but will be
no more once I'm gone – lost
in translation of time, hopefully
not just a memory left behind.
Life's always changing like
aunts and uncles I've known;
now they are no more.
Glimpsing into the future,
one day I too will wither
and perish like this flower;
In rhythm with blue laced
petals...those yellow dense
eyes so minute will watch
summer's last rays slip
from view, creeping
clusters twitching in breeze.
I comb through old faded
photos; holding on to my
late father's bloodline,
lingering a while over the
passage of time;
hoping in my heart that
when I take my last breath,
a fog will lift to connect with
this flower...and I won't be
forgotten.
Pixabay free image.