Hunsbury Hill Country Park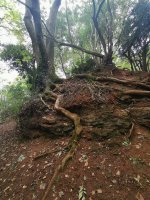 Sun, 16 Oct 2022
1 likes
A local haven at Fall
Hunsbury Hill Country Park
Falling leaves drift; autumnal eddies,
amber blankets billow in breezes,
dragonflies hover over fans of fern,
light dances in wildflower meadows.
Ancient woodlands, oaks stand tall
where birch trees, silver-barked
watch sycamores shedding seeds
and green pines dressed in cones.
Trails meander, undiscovered stories,
merchant road now dust and dirt,
Iron-age ghosts roam archaic forts,
carrion-crows caw; thoughts of winter.
Railway lines hidden by roots,
engender forgotten, bygone times
and in the church of my mind,
I see a white stag vanishing,
silently into a long-lost copse.
Image is a photo of mine
https://www.westnorthants.gov.uk/local-parks/hunsbury-hill-park