You Never Know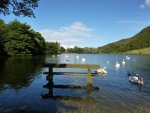 Mon, 24 Oct 2022
3 likes
Dear diary...Friday 21st October 2022. I had no idea that when today started off, it would end so traumatically. We'd done the usual food shopping...same as always, got home and unpacked everything.
Me and my partner were due to have our flu jabs at 3.20pm and 3.40pm at one of the town's pharmacy's which was on a main road. The very thought of having another needle shoved in my arm after having my third covid jab was not at all appealing, even though I know it was for my own good...but hey ho! Needs must I suppose.
3pm came and who knew it would be raining cats and dogs? Well I suppose I did ask for it in a way, going out in the garden and doing a sort of slow meandering rain dance with my wooden Indian rattle back when there was a heatwave. I bought it in Glastonbury many years ago, it sounds just like the rain falling. But please weather gods...not all in one go was requested, thank you very much.
But enough of my complaining for the moment. We left the house about 3pm due to the fact it would be hard to find a parking space, as the streets nearby are residential parking only, and there are no car parks near by.
As expected we had to park fifteen minutes away, which was a nuisance as the sky blackened with dark clouds matching my mood that was building up. It was pouring with rain and we only had five minutes to get to the pharmacy.
Cutting through the park as it was quicker, we had to walk at a fast pace, being careful as it was so slippery with leaves and wet grass. Thankfully we made it in time, dodging all the deep puddles, but dripping wet.
Arriving at the chemist with the wind blowing quite strong by now, traffic was at its height as we walked in to a queue of people. My partner mentioned we were here to get our flu jabs.
One lady came in and said the pools of water were becoming ankle deep, then another lady came in looking like she'd just been drowned. A man rushing in behind her and said the water was getting worse, and we'd be lucky to get out the shop if the rain continued.
Removing our waterproof macs, the shop assistant handed us some forms to fill in, we were lucky enough to get chairs to sit down and write. I kept looking out the window finding it hard to concentrate as the rain got harder, traffic was horrendous, cars were going way too fast, racing through pools of water, there was a look of shock on my face, when I thought of the horror of getting my trainers soaked through. Of course my partner stayed as cool as a cucumber...calm as always, never giving away too much of what he was really thinking.
By the time my partner went in to have his jab, the rain was becoming unmercifully torrential, I was becoming even more worried, especially as the shop assistant took out her phone camera and started taking photos of the fast moving traffic stirring up deep pools of water.
The drains were getting blocked with leaves, five of them started to bubble up, yet still the traffic moved at a devastatingly fast rate. Rain was washing towards us in small tidal waves, drifting closer in the direction of the shop doorway.
Now I understood the reality of what it must feel like to live in fear of floods. I couldn't get over the fact we would somehow have to get back to the car.
Then! As my partner came out and just before I went in to get my jab, it happened, the water was coming in waves under the doorway. Buckets and mops came out. I felt this wasn't going to end well for the shop if the rain continued.
"Quick!" Said the assistant, "go in and get your jab before we have to close shop."
The nurse who wasn't aware of how bad things were in the shop, as she was tucked away in a small office off to the side with no windows began asking me to repeat the information I'd given on my form, checking on her computer screen. I'd been in such an anxious state, I'd missed out a letter in my postcode, and given a wrong phone number, so it was good she asked me to repeat.
After having the jab, I said the nurse should see how bad the situation was. When she opened the door and saw the ladies with mops and buckets, and water covering the floor, with rain still coming down, she said we should hurry through the shop and out the back way.
Phew! What a relief! We raced around the counter at a quick pace, down a corridor and out the back door, where thankfully the pavements were clear. With rain still coming down, we didn't care that it would take a little longer to get back to the car.
The road where we parked was beginning to get flooded too. We saw a fire engine with lights flashing and sirens, wondering if the Pharmacy had called. Amazingly we got home in one piece.
But when we walked through the door, there were pools of water on the floor, so even though we were tired and just wanted to get out of our wet clothes, it was time to get towels down and dry the floor.
Hopefully this was a one off. I'm just glad it wasn't too bad, and the rain finally stopped. Well at least the wooden floor got a good clean, so that's one consolation...and I'm still here to record the experience.