Mid-Winter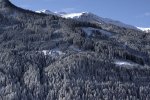 Wed, 14 Dec 2022
1 likes
Audio version at: https://soundcloud.com/user-62051685/mid-winter-mp3
Mid-Winter
Constellations whisper in aphonic skies,
a myriad of stars on dark blue canvas,
mist coils, lingers - an ethereal shroud,
this mid-winter scene of snow and ice.
Vista verdant, a tree lined horizon,
paw-prints puncture trails in snow,
bushes brushed, crowns of antlers,
red berries dangling, falling below.
Red fox stealthy, searching, hunting,
Roe-deer alert to the howl of wolves,
white flakes falling, translucent tears,
waterfall sounds resonate close by.
Cold consumes the frailest of souls,
hearts beating, beat by beat, slower,
time dissipates in timeless wilderness,
life and death, silhouettes in frost.
Where a river once ran, torrents,
now a pane of opaque frozen glass,
where ghosts float in the undertow
listening to the symphony of seasons.
Image free to use at: https://commons.wikimedia.org/wiki/File:KleinarlWinterwonderland.jpg