A Fond Farewell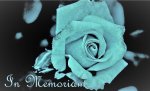 Mon, 26 Dec 2022
Many of my relatives and friends
gather together for various things:
a birthday or an engagement party
when betrothed will exchange rings;
a christening, a religious wedding,
a celebration of one's achievement
but most of all, following a demise,
to offer comfort during bereavement.
Once again the family will convene
to bid farewell to my dearest wife
who tried to repel the Grim Reaper
but was unable to hang on to life
Her passing, untimely, unexpected,
caused a lot of agonizing heartache.
Yet memory of her goodness remains
leaving joy, not sorrow, in its wake.
© Luigi Pagano 2022
In memory of Joy Pagano - 1942-2022