Hereafter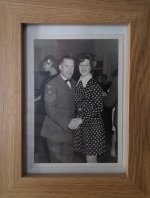 Wed, 21 Dec 2022
2 likes
Some call it "The Hereafter",
as if it were somewhere close,
and not yonder, beyond our ken,
certainly beyond belief,
at least mine.
But there is comfort there,
for those still here -
and those on the threshold,
listening for the piper
at the gates of dawn.
For she, too, heard drums,
different beats,
in syncopated time,
jumping from now to then
stumbling over the previous minutes.
And these drums,
these cruel tympani,
played in her deaf ears
as they had in my father's,
until he too heard pipes.
So we console ourselves,
with their strong beliefs,
held a lifetime
and know that they knew
they'd be together again,
on the other side of the sky,
at the back of the north wind.