He's Left These Woods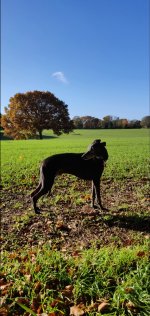 Tue, 03 Jan 2023
2 likes
He's left these woods,
Mr Pip slipped
quietly through a gap. 
A quick look back
then gone between the trees.
Fifteen years ago
I held him on my lap
as his fiery brown eyes
searched anxiously 
for his squirming siblings.
We chose him
and we were his family.
He was sleek and 
full of promise,
like an apple seed;
shiny dark brown, black
and thoroughly knowing.
A white flash on his chest
like a star, we said, a bat.
I soon learned that he could fly 
and many hidden powers 
from the past,
ones we lost, he held
and gave them back.
And other powers
possessed of those
who are truly present.
I paid him back with food 
and adoring love, 
but he didn't take it all,
he didn't need it 
and wanted me to 
keep some for myself, 
a frail human.
I couldn't hide with him,
'It's her and that black dog'
A wandering team,
rather aimless
but getting out nonetheless.
I miss him but I know
he's just through the trees.