Castell Coch (Red Castle)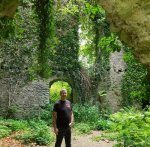 Wed, 12 Jul 2023
2 likes
Castell Coch (Red Castle)
The sun shifted on its summer throne
as our guide gathered us like sheep,
onwards through park, path and trails,
pink-infused meadows; humming bees.
Traversing fans of fern, banks of thistle
to where walls worn by time appeared,
weather-beaten ruins, crumbling brick,
stones stolen by the thieves of always.
We listened to stirring tales of battle,
ghost stories of a woman in white,
the past now becoming the present
inside arches built by heraldic toil.
Closed eyes cast spells imagined,
archers firing arrows, repelling foe,
songs of the ages sung by spirits,
waterless moat reclaimed by flora.
Intoned epochs of generations ago,
monochrome stills of life and death,
unfolding re-wilding in fields of gold,
where nature once again holds sway.
Archaic manor house sett for badgers 
where paws tread near silent hearths,
shadows, night shrieks, bats in flight,
this discreet bastion for local wildlife.
As we turned to leave the ancient site,
for every revelation, a secret remained,
with all the expert theories, conjecture,
the reason why red, a mystery endures.
*Pic is my own
Notes:
This poem is based on a history walk I went on at Bluestone National Park in Pembrokeshire. The guide was a noted historian - Simon Hancock - who gave a wonderful tour of the castle. For all of the history imparted, it was the fact that the 12th century ruins are called the Red Castle and yet it remains unknown as to the specific reason why even now that made it so interesting.
https://britishlistedbuildings.co.uk/300006087-castell-coch-martletwy