just deserts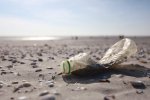 Tue, 20 Apr 2021
I wander beside the desert
unfurling like a sea
of chrysanthemum petals
wondering, Do fish swim
under those diminishing curves?
For sure, there are no crabs
to sideways scrabble scrawl
like war correspondents reporting
a retreating tide
no yellow winkles, whelks or dapper hermit crabs
to make their groove in a wave lapping LP
no flap and squabble of bright white herring gulls
to pull life up, for there is none
here, no lugworms or cockles hiding deep -
but, there
is colour! A flash of purple
snackbar wrapper, rich blue plastic string
could have a future strangling
seals. Polysterene fast food boxes
bob as well as any gull and
sanitary towels could fill
the hungry belly of a basking shark.
The beach just along this coast
someone snapped a photo
which got many smiley faces, likes
and jokes, looking like dead men's willies
they were actually sea anemones
once sucked wine-gum ruby, now bleached
from pollution and increasing heat.
We are making a meal
of tackling the effects of progress
and this is our just dessert
here are some links if you are interested :
https://www.greenpeace.org.uk/news/plastic-recycling-export-incineration/
https://sustainabledevelopment.un.org/content/documents/Ocean_Factsheet_...
https://www.greenpeace.org.uk/wp-content/uploads/2019/06/plastics_v08.pdf
https://www.newscientist.com/article/2264585-microplastics-found-across-...