Midst Highland Shadows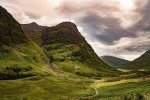 Thu, 16 Jun 2022
2 likes
Come with me to imagined
Scottish glen, we'll pitch tent
beside a Loch before prevalent
darkness sets in.
It's time of golden twilight just
before mantled night, as high
above hills gaggle of geese
pepper distant sky;
to roost they must fly as their
thirst needs relieving, water
will suffice drinking and their
feathers for preening.
My friends and I will share
wine under many twinkling
stars, then lay back observing
outer space to see if we spy
mars.
At peace on this clear night;
gentle ripples of Loch resonate,
helps pass time before we rest,
thinking of tomorrow's escapade;
but first we focus on Luna's gaze,
aura is divine; though moon has
rictus face, her gleaming light
does shine.
Dawn came suddenly like
morning dew reaching out,
wandering misty illusory
releasing grip on reality;
swooping freshness for us
with renewed vitality,
encouraging visions so
profound; of fairy rings and
rushing streams, emotions
charged teardrops from eyes,
that mingle in haze of cloudy
skies; mixed with untroubled
pleasurable sighs.
Signs of movement as clouds
drift by, their haunting shadows
over Glen; nothing else around
us stirs...but wait! Look at what
I spy,
spinners of silky gossamer webs;
wispy threads catching showers,
does spider spy its reflection in
clear pearly drops? Or perhaps
she's too busy catching flies to
bother with display viewed so
inconsequential.
On tumbledown tracks where
hawthorn spreads, beside blanket
bogs; of myrtle, bog asphodel and
bladder-wort we'll ramble.
Across craggy hill tops
bathed in heather we'll
venture together; then up
to horizon where we'll
catch the breeze, feeling
untamed pleasure,
running at breakneck speed,
raising arms like hawks
swooping. Stand on highest
mount encompassed by
refreshing winds greeting,
hair whipped in welcome at
miles of wilderness that can
be savage...yet stunning.
Here's hoping that nature's
brawny landscape will remain
forthcoming.
Pixabay free image.