Miracle Of Spring On Gossamer Wings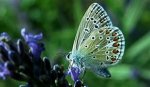 Wed, 17 May 2023
I have no doubt of this
understandable temple
of cocoon cared for in
nature's swaddle, still
clutching the silence
of solitude it's endured,
conserve your energy
little one; pay homage
to rebirth, reawakening
returns with spring;
miracle of a butterfly's
transformation from
fortified larvae in state
of unconsciousness,
to softly breathing sweet
breezes; an offspring that
once crawled the earth,
now makes haste
with swiftness of wings
fluttering a dance where
sunlight shines on a
dappled carpet of bluebells.
She wants to share some
news of swirling mix of
pollen to fertilize wild
grass and flowers,
floating delicately as
fragrant blooms
welcome outpouring.
Her wings across my path
flirted and flitted, then as
daylight faded she was with
impatience gone.
Pixabay free to use image.