Nature's Hideaway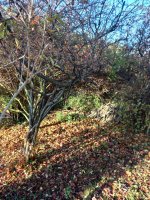 Sat, 04 Dec 2021
1 likes
The photo is my own, of a small wooded area we
created at the bottom of our garden, taken on
Saturday 4th December 2021 at 11.20 am.
It's one I'm proud of, being the first I've ever
taken on a mobile phone, with help from my son. 

There's no order captured here in garden spinney,
wild gatherings only, those hidden limbs intertwine;
weaving branches undefined.
Fluttering wings brush air, as twitching heads
of visiting blackbirds and robins under naked
Japanese Maple hop on leafy carpet, where
fragmented leaves caught by passing breeze
descend, serving to restore fair unrestrained
pulsing earth's wonder.
Branches bowed In welcome of creatures passing,
a natural structure attained; this preparation
of twisty seclusion a sleeping wisdom
of contentment in hollow shelter,
where avoiding mocking brisk North wind;
I pause...and reflect. Jack Frost's mischief
whistles through gaps, yet does not disturb
mother nature; for she slumbers quietly
waiting patiently for Winter's passing.