River Of Awareness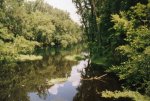 Sun, 26 Sep 2021
2 likes
Out here where unharmed emotions spill,
peace fills the mind lingering midst days
of richness gathered, like soothing reveals
golden sunset devouring view,
letting go embraces night constellation in
clear sky, river breathlessly proclaims its
own, waterways of fusion trace together,
current swift...then slowing down.
Released rain; excitement building into
rings that bounce, Pike and Perch surface,
plant dwellers have hypnotic sway, flushes
food for fish; vibrations flicker.
Winged water skaters gliding thinkers with
delicate gossamer wings, fly sylphlike...
watch them skim between towering reeds
where some roosting swans are breeding.
Shades of green where creatures hide;
not seen, the Otter squeals a warning call
as Kingfisher very still perched on bough,
with colours of blue, green and gold.
Now we too anchored by this divine
serenity, watching weeping willows
undulating dance, sends us into peaceful
slumber where nature gives a soft release.
Pixabay free image.